We watched the 2010s unfold through gifs and image macros. It was a decade when internet memes became a form of political expression and bystanders with camera phones became amateur photojournalists. Propaganda is now micro-targeted.

The story of our politics this decade can be told through images, and we have the rise of smart phones and social media to thank. After all, we saw and shared many of these images while scrolling through our newsfeeds. The percentage of Americans who own a smartphone rose from 35% in 2011 to 81% in 2019. Only 43% of U.S. adults used at least one social media site back in 2010, but now, 72% do.

This decade saw a radical transformation in how we connect and communicate, and it also saw the mainstreaming of internet culture. Today, internet culture is simply culture. The novelty of a president sharing a meme has worn off and single-use Twitter parody accounts no longer get written up about.

Perhaps six-second Vines and infinite scroll killed our attention spans, but making a quick, powerful visual argument is as important as ever. Consider: of all the social networks Russia used during its attack on the 2016 campaign, it was the photo-sharing app Instagram — itself a product of the '10s, launched in October 2010 — that received the highest engagement.

This list of the 101 political memes, art, and visual rhetoric that defined the 2010s attempts to put the decade's images in context. What a decade it's been.

Yours,

Note: Items are listed in approximate chronological order, not ranked in order of importance.
---
1. Jon McNaughton's "The Forgotten Man"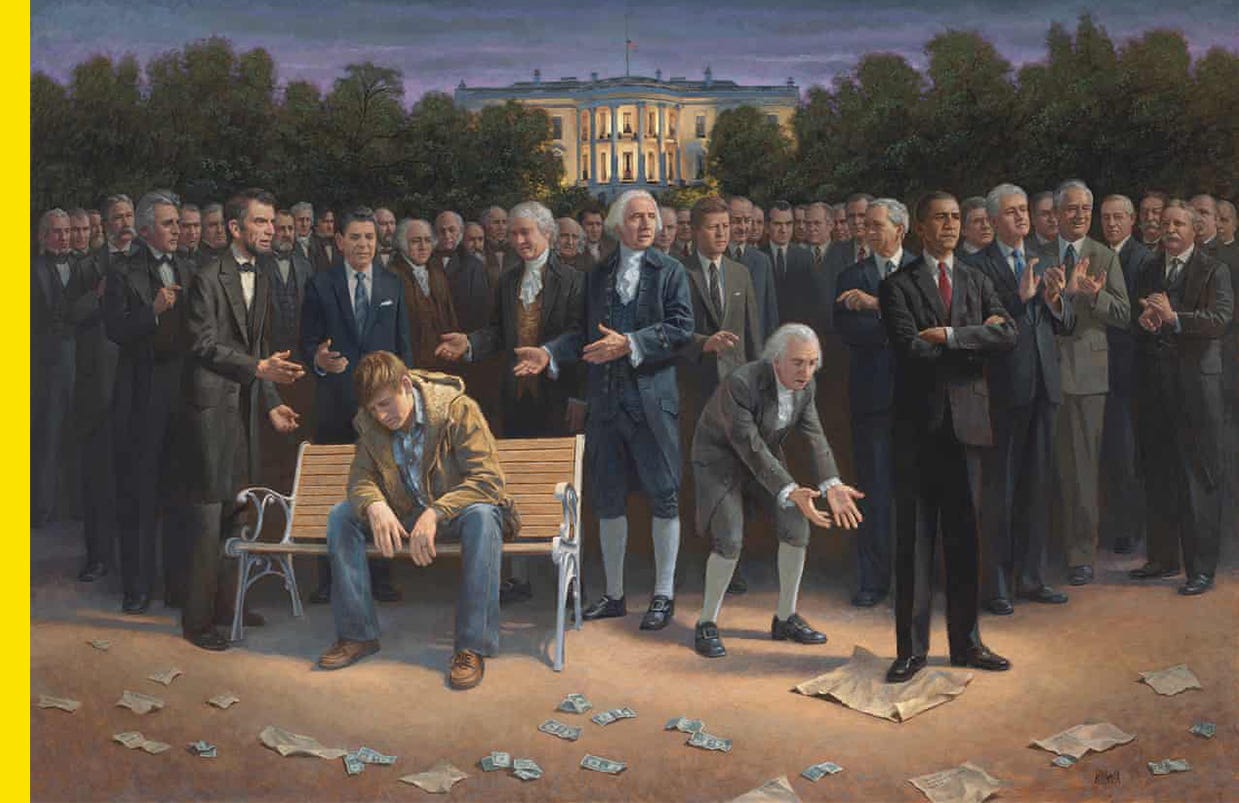 Credit: via jonmcnaughton.com
A Thomas Kinkade for the MAGA crowd, Jon McNaughton paints pieces unappreciated by art critics but adored by fans. 2010's "The Forgotten Man" was his reaction to the Affordable Care Act and shows Barack Obama stepping on the Constitution. Sean Hannity bought the original painting and Trump would use the phrase "forgotten men and women" in his 2016 campaign messaging. The defeated man on the bench represents everyday Americans, McNaughton explained. The man also made an appearance in a sequel painting, "You Are Not Forgotten," in which Trump steps on the head of a snake, a biblical allusion.
2. "I'm not a witch" ad
The 2010 race to fill Joe Biden's Senate seat in Delaware was rocked after Bill Maher aired footage from his old show. A young Christine O'Donnell, the Republican candidate in the race, said in 1999 she dabbled in witchcraft in high school. Her campaign responded with an ad from Fred Davis whose Los Angeles-based firm Strategic Perception had compared Barack Obama to Britney Spears and Paris Hilton in a 2008 ad. Released just weeks before Halloween, the ad showed O'Donnell in front of a dark backdrop saying, "I'm not a witch," and became a meme. It was mocked by video creators on YouTube and in a "Saturday Night Live" sketch starring Kristin Wiig. O'Donnell went on to lose the race and later said she regretted the ad. It foreshadowed a decade in which politics and pop culture could be mashed-up at lightning speed.
3. Slab Gotham
When modern presidents run for reelection, their brand identity gets a refresh. That's what Barack Obama's 2012 campaign did when it commissioned the type foundry Hoefler & Co. to add serifs to their typeface Gotham, used by the campaign in 2008. Gotham has since become the standard font of politics, and the 2011 slab serif update paved the way for serif typefaces like Hillary Clinton's Sharp Slab and Bernie Sanders' Jubilat.
4. Obama's birth certificate
Fringe conspiracy theories that Barack Obama wasn't born in the U.S. circulated when he ran for president in 2008, and they went mainstream after he took office thanks in large part to then-"Celebrity Apprentice" host Donald Trump. Trump publicly doubted Obama's citizenship during TV appearances in 2011 and in April, the White House tried to put the rumors to rest. A week after a CBS News-New York Times poll found 25% of Americans thought Obama was born outside the country, the White House released his long form birth certificate from Hawaii, printed on light green paper. The image became merch in 2012 after it was printed on a mug and shirt sold by the Obama campaign with the words "Made in the USA."
5. Obama Situation Room memes
Americans commemorated the death of Osama bin Laden by playing Miley Cyrus' "Party in the USA" and photoshopping an official White House photo. The original photo was taken in the Situation Room by White House photographer Pete Souza and showed Obama and members of his national security team getting updates on the mission. Manipulating the image in any way was prohibited, per the photo's Flickr caption, but rules be damned, the internet turned the image into a veritable Sgt. Pepper's Lonely Hearts Club Band of foreign policy.
6. Aaron Schock's Men's Health cover
Elected in 2008 at the age of 27, Rep. Aaron Schock (R-Ill.) seemed like the future of the Republican Party. He considered the attention he received for his youth and good looks as part of amassing political capital and power. "First, you've got to get their attention," he said in 2009. Schock graced the cover of Men's Health shirtless in 2011 as part of a feature on how to look great at any age. In the story, he promoted his "Fit for Summer, Fit for Life" initiative and praised then-first lady Michelle Obama's "Let's Move!" program. While "America's fittest congressman" amassed more than 18,000 Instagram followers by 2015, Instagram was also part of his undoing. A Washington Post story on his "Downton Abbey"-inspired office decor led to scrutiny about his spending and financial disclosures, and the Associated Press used Instagram posts to cross-reference flight records. Schock resigned several weeks later after Politico reported discrepancies in his reported mileage reimbursements on a personal vehicle. The federal government dropped felony corruption charges against Schock earlier this year and he now regularly posts thirst traps on Instagram. Schock's use of social media and youth to capture public attention are standard operating procedure for freshmen lawmakers today, but he remains the only Millennial politician to grace the cover of a men's mag shirtless.
7. Martin Luther King, Jr. Memorial
Credit: NPS
The MLK Memorial is inspired by a line in King's "I Have A Dream" speech: "…out of the mountain of despair a stone of hope." The monument shows King carved into stone removed from a mountain of despair behind him, complete with scrape marks along the side of his statue to symbolize the struggles of the Civil Rights movement. Its location between the Jefferson and Lincoln Monuments is intentional, signifying "the evolving message of democracy through the continuum of time," as ROMA Design Group, the San Francisco-based firm that submitted the winning design for the memorial, explained. The 30-foot-tall statue was created by Chinese sculptor Lei Yixin and dedicated by then-President Obama in 2011.
8. Occupy George
Credit: via Occupy George
Art played an important role in Occupy Wall Street. Artists silkscreened "We Are The 99%" tees in Zuccotti Park and Shepard Fairey remixed "Hope" to show a figure wearing a Guy Fawkes mask. In 2013, the Museum of Modern Art even acquired a collection of 31 Occupy screenprints. But no work captured Occupy's 99% message like Occupy George, a project that stamped red messages on $1 bills. It broke down the country's income disparity in visual terms, like the above bill which compared average worker pay with average CEO pay.
9. Kony 2012
Uploaded to YouTube in March 2012 by the group Invisible Children, "Kony 2012" told the story of Ugandan warlord Joseph Kony and broke records set by the likes of Susan Boyle, Lady Gaga, and Rebecca Black. The 30-minute video racked up 100 million views in six days, and a Pew poll released the following week found 58% of Americans ages 18 to 29 had heard about it. "Kony 2012" showed the power of social media to raise awareness about a political issue and inspired Americans to call for Kony's capture. The campaign sought to find common ground with a logo of an elephant and donkey coming together to create a dove, but it was also derided as slacktivism. Invisible Children co-founder Jason Russell suffered a public breakdown shortly after the video's release and a planned "Cover The Night" street art campaign fizzled. The mission to track down Kony ended in 2017 without his capture or death, although officials said the size of his army had shrunk significantly.
10. Deal With It Obama
Though the Deal With It meme can be applied to anyone, it had a particular resonance with Obama in 2012. It could be used with any photo of Obama already wearing sunglasses and for those without, they could be added in gif form. It was the "General Motors is alive and Osama is dead" of memes, showing a president in charge.
11. Texts From Hillary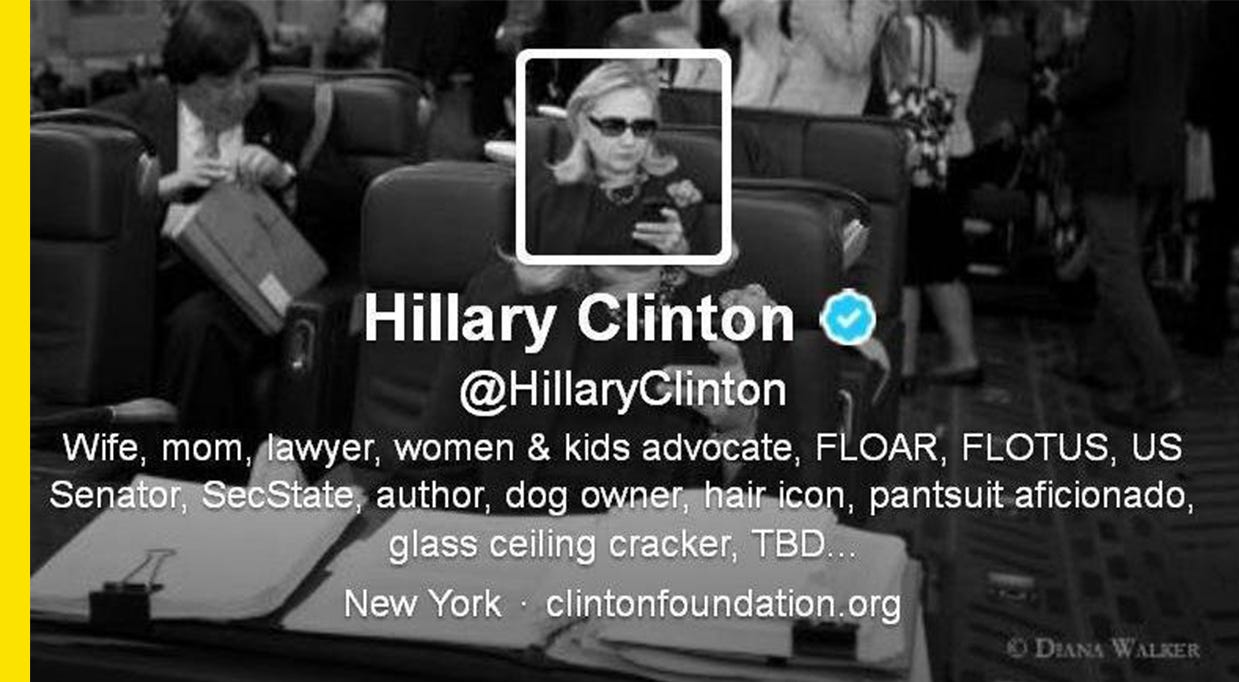 Hillary Clinton's approval rating was at a near record of 66% when the single-use Tumblr by Adam Smith and Stacy Lambe was created showing Clinton texting fellow politicians. Like Deal With It Obama, it portrayed Clinton as a sunglasses-wearing badass. The initial photo used on the Tumblr was taken by photographer Kevin Lamarque in 2011 during a trip to Libya, and it didn't get much notice at first (footage of the then-Secretary of State finding out on camera that Muammar Gaddafi was killed a few days later was at first the most viral moment of the trip), but after the Texts From Hillary Tumblr took off, it became Clinton's most famous photo. She even used it as her Twitter avatar when she activated an account in 2013. The meme's popularity inspired a State official to inquire whether Clinton had a state.gov email address, which she did not. After the story of Clinton's private server broke, "Texts From Hillary" became "Emails Sent From A Private Account That Violates Specific Obama Administration Policy From Hillary," I noted in the Washington Post at the time. To no one's surprise, Clinton swapped out her Twitter avatar shortly thereafter.
12. Paul Ryan Gosling
Credit: Gregg Segal for Time
It started with a Feminist Ryan Gosling Tumblr account that posted image macros of the impossibly handsome actor overlaid with feminist theory. Each one began with "Hey girl." A Paul Ryan spin-off came six months later and rather than feminism, it was economic-policy themed ("Hey girl, let's get fiscal"). What began as pro-Ryan content was co-opted by critics, and today there's a @PaulRyanGosling account with more than 44,000 followers that's still tweeting in 2019. When Time magazine released its photoshoot with Ryan pumping iron in a backwards red baseball hat in October 2012, it had a ready-made meme format to latch onto.
13. Clint Eastwood's empty chair
Credit: Lynne Sladky/AP Photo
Closing night of a national convention is supposed to be all about the nominee. He or she accepts the nomination, gives a speech, everyone cheers, and that's your headline for the next day. That's not how it went for Republicans in 2012. Clint Eastwood spent his nearly 12-minute prime-time speaking slot at the Republican National Convention speaking to an empty chair. He held a mock conversation with Obama, including possible imagined expletives ("What do you want me to tell Romney?" Eastwood asked. "He can't do that to himself."). It was partisan performance art, and Eastwood later told Esquire his stunt was "silly."
14. "Binders full of women"
I never got what was so funny about Romney's "binders full of women" comment, from 2012. Or "horses and bayonets" for that matter. The debate memes poking fun at Romney all felt forced, but they were the only memes about the candidate that ever seemed to get any traction. After Romney tried to explain in the second debate that as governor of Massachusetts his office went through "whole binders full of women" who were being considered cabinet positions, the internet pounced, creating Photoshopped images of Romney with binders. Although it was inartful phrasing and viewed by some as patronizing, there were actual binders! Two of them in fact, that included nearly 200 resumes and weighed more than 15 pounds, according to the Boston Globe.
15. Romney face tattoo guy
We will never forget the guy who got Romney's R logo tattooed on his face. Eric Hartsburg offered to sell space on his head for the logo on eBay and was given $15,000 from an anonymous donor for the stunt. After Romney lost, Hartsburg received two laser treatments to remove the tattoo. He told Inked magazine in 2015 he won't do any more and doesn't have plans to cover it up.
16. Obama and Christie's Hurricane Sandy photo-op
Credit: C-SPAN
Chris Christie canceled a planned campaign event with Mitt Romney after New Jersey was ravaged by Hurricane Sandy, but he still made time for then-President Obama. The pair toured storm damage and Christie heaped praise on the president, providing an in-kind donation in the closing days of the campaign that played across the news. Despite polling that showed Sandy didn't hurt Romney, Fox News CEO Roger Ailes reportedly blamed Romney's loss on Christie, according to Gabriel Sherman's "The Loudest Voice in the Room."
17. Selfies with Mitt
Credit: @TheJackal42069/Twitter
After losing in 2012, Mitt Romney was spotted everywhere. At Vons, checking out at CVS, or at the airport (he was always at an airport). Romney selfies were popularized by then-BuzzFeed reporter Andrew Kaczynski, who surfaced many of the tweets shared by random people. They conveyed the reality faced by the runner-up of a presidential race in the selfie age: while winning elections means you're surrounded by Secret Service protection and will never live a normal life again, losing means you still pump your own gas and shop for groceries, only now you're uber famous. The phenomenon reappeared four years later with snaps of Hillary Clinton spotted hiking in the woods.
18. Obama skeet shooting memes
When asked in a 2013 interview if he ever fired a gun, Obama said he had. "We do skeet shooting all the time" at Camp David, he said. To silence skeptics, the White House released a photo of Obama skeet shooting taken by White House photographer Pete Souza the previous summer. The image was promptly photoshopped and the NRA wasn't impressed, with chief lobbyist Chris Cox telling the New York Times "he clearly doesn't get it." The Obama photo was the latest in a long line of Democratic photo-ops to assuage gun owner worries that Dems would take away their firearms. As a presidential candidate, John Kerry did some trap shooting and as Senate Majority Leader, Harry Reid once attended the grand opening of a shooting park. Given that the horrors of modern mass shootings have worn down many Americans' patience for "thoughts and prayers," it's hard to imagine members of 2020's Democratic field doing anything similar. More than the memes it inspired, Souza's photo of Obama skeet shooting stands as an artifact of a different time.
19. Photos of Obama's feet on the Resolute Desk
Vanity Fair collected images of then-President Obama looking chill on the job for a post about our "lean-back president" in April 2013, including photos of him with his feet up on the Resolute Desk in the Oval Office. The images sparked outrage on the right among conservatives who thought he wasn't showing respect for the office. Later that year, a new official White House photo of Obama with his foot on the desk by Pete Souza (above) prompted a fresh round of criticism. The photo made the Drudge Report, and one Tea Party Twitter account asked, "Does Seeing President Obama's Foot on the Oval Office Desk Make Your Blood Boil?" Despite the partisan outrage, there exist photos of George W. Bush doing the same thing.
20. Leaked NSA slides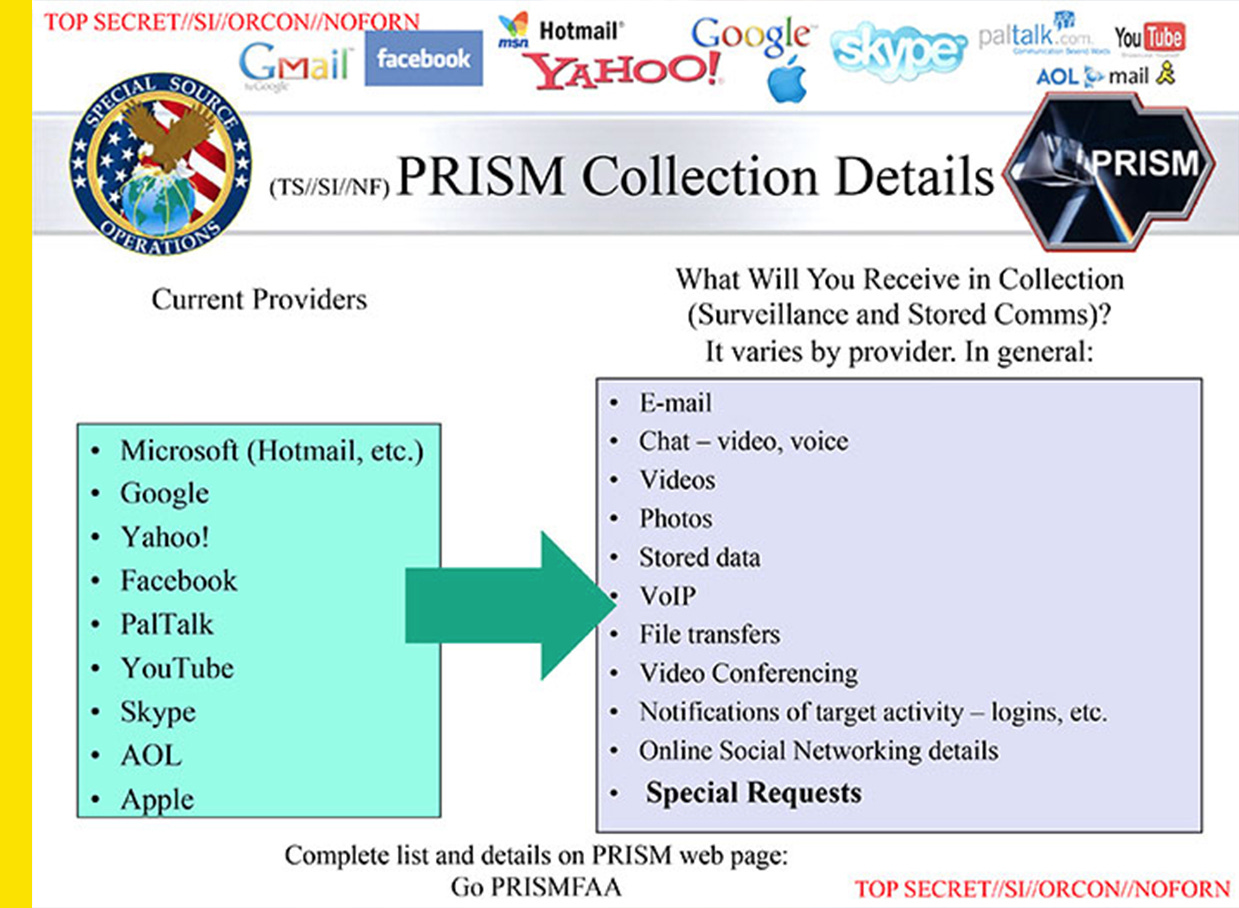 Among the documents leaked by Edward Snowden in 2013 detailing mass government surveillance was a slide presentation about the top-secret PRISM program. Though the NSA said it could obtain emails, photos, videos, chats, and other data from the servers of nine leading internet companies, they couldn't put together a half-decent slide deck. The 41-page PRISM overview, of which only a portion was ever published, was fugly as sin.
21. Pajama boy
Wear pajamas. Drink hot chocolate. Talk about getting health insurance. That was the copy on an image @BarackObama tweeted out in December 2013 showing a guy in pajamas. It was a call to action to #GetTalking about healthcare over the holidays, but for conservatives, it was a parody of a liberal male. A decade that saw trends like male makeup vloggers and arguments against "toxic masculinity" also saw a reaction from men's rights activists and the rise of "cuck" as a political insult. Pajama Boy was seen by some on the right as an expression of the feminization of men. Weak, feminist, woke, probably still lives with his parents. A "soy boy."
22. David Ortiz' selfie with Obama
The selfie was coming of age in 2014. It was the year Merriam-Webster added the word to its dictionary and Google search interest in the selfie stick was on the rise. The following May, Kim Kardashian would publish "Selfish," her seminal book on the topic. Samsung appeared to be on a mission to make sure the biggest selfies were shot on its devices, including that year's Oscars, where Ellen just so happened to take her infamous selfie on a Galaxy Note 3. When the World Series champion Boston Red Sox visited the White House the following month, David Ortiz used the same phone to snap a selfie with the president, and Samsung promoted the image on social media. "We have a relationship with David and the Red Sox," the company told ABC News, but they claimed the selfie was organic. Still, the White House wasn't happy to unwittingly be apart of an alleged marketing stunt, and Obama senior advisor Dan Pfeiffer suggested it could be the end of all selfies. "Someone who uses the president's likeness to promote a product … that's a problem with the White House," he said on "Face the Nation." Luckily, White House selfies were never banned.
23. Sabo's Ted Cruz poster
Ted Cruz's presidential campaign thought they found their Shepard Fairey in Sabo, a Los Angeles street artist who turned the Texas senator into a ripped, tatted, cigarette smoking punk for his "Blacklisted & Loving It" poster. The poster was inspired by merch sold in Venice Beach of Marilyn Monroe in tattoos, and was eventually sold in the Cruz campaign store along with Sabo-designed tees, tanks, and buttons. Thanks to the novelty of a conservative street artist in L.A. and Sabo's regular street art campaigns mocking liberal politicians and celebrities who gathered for big dollar Hollywood fundraisers, Sabo was a rising star on the right, but he often made offensive and racist remarks online (he wore a Confederate ring when I interviewed him in 2015 and had an art piece he created with slurs for black and gay people above his couch). The Cruz campaign pulled his items from their store in February 2016, and earlier this month, he was deplatformed by Instagram.
24. Michelle Obama #BringBackOurGirls memes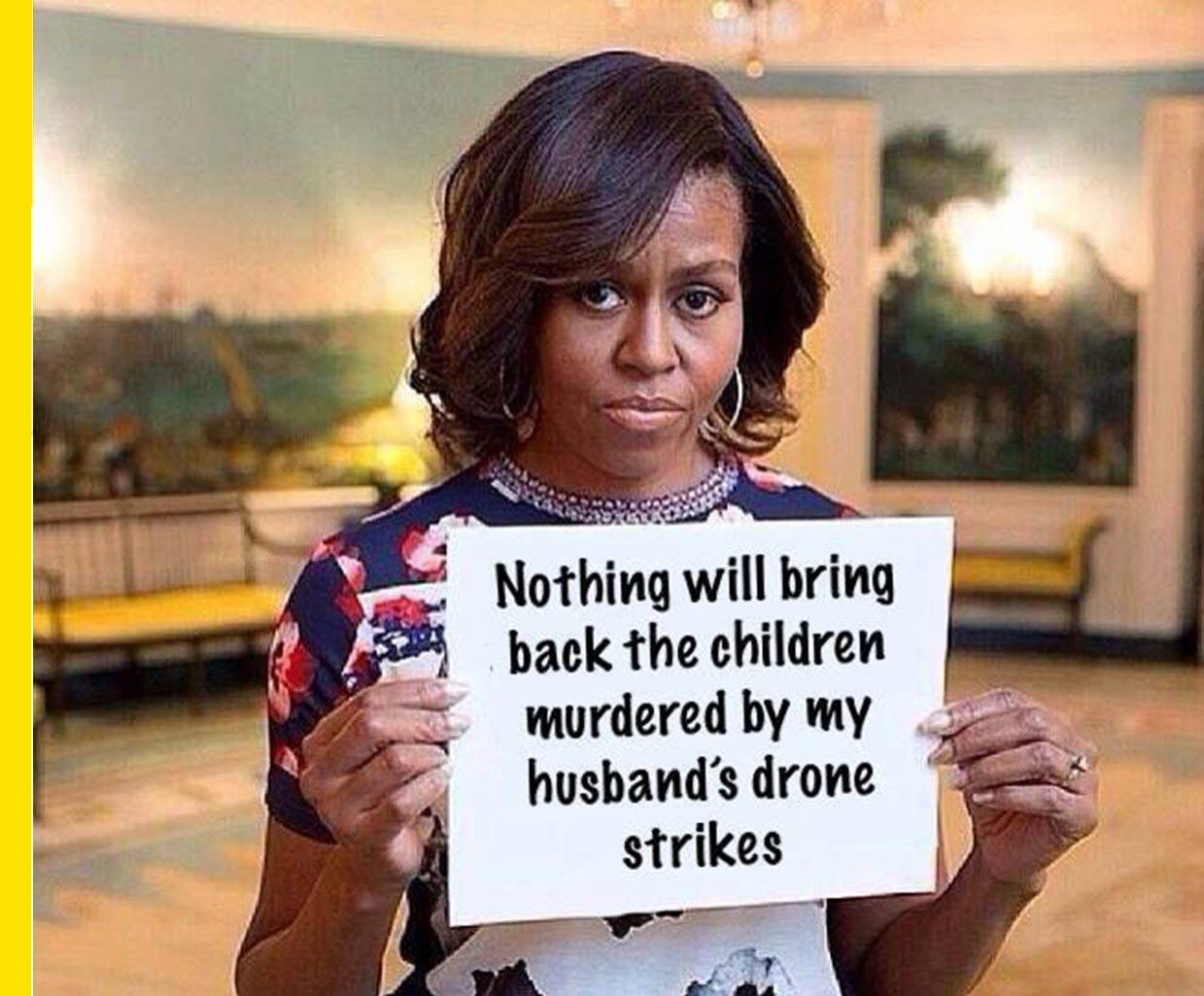 I imagine future Americans might wonder why so many people in the '10s (public figures especially) posted photos of themselves holding up sheets of paper with messages on them knowing how easily those messages could be photoshopped. Perhaps the most famous example would be Michelle Obama, who as first lady came out in support of the #BringBackOurGirls campaign for the nearly 300 girls who were kidnapped by the group Boko Haram in Nigeria. The original photo had the Bring Back Our Girls hashtag written on the paper, but critics of the Obama administration's drone strikes turned it into an anti-drone meme while conservatives used it for less serious messages. "An immigrant is taking my job" read one edit before Melania Trump became FLOTUS.
25. Video of police brutality
Credit: Diamond Reynolds
The proliferation of smart phones allowed people to capture graphic footage of police brutality that might have otherwise gone undocumented. It's because of smartphone video that we saw Eric Garner tell police "I can't breathe" and the aftermath of the fatal shooting of Philando Castile, livestreamed by his girlfriend Diamond Reynolds in the passenger seat. Those who filmed sometimes felt targeted for doing so. Ramsey Orta, who filmed Garner, said he was harassed by police after the video came out and told Time if he had to do it over again, he would have released it anonymously. Feidin Santana, who was walking to work when he captured the shooting of Walter Scott, was concerned about police retaliation after he put his footage out, and he later moved. These videos served as a witness, though, turning local tragedies into national stories and inspiring Black Lives Matter. Today, the public is pushing police departments to film themselves, and the number of law enforcement agencies with body cameras has risen from 4,500 in 2013 to an estimated 10,500 in 2018, according to Government Technology, a trade magazine.
26. Ferguson protester
Credit: Robert Cohen/St. Louis Post-Dispatch via AP
A tear gas canister fired by police landed near St. Louis resident Edward Crawford during a protest four days after the fatal shooting of unarmed teenager Michael Brown. Without much time to act, Crawford picked the canister up and chucked it back, holding a bag of chips in the other hand. "I threw it out of the way of children," he told the St. Louis Post-Dispatch. Wearing an American flag tank, Crawford looked like an actual Captain America, and Post-Dispatch photographer Robert Cohen's photo of the moment won a Pulitzer. Crawford became a symbol for Ferguson and a local hero. He died in 2017 from self-inflicted gunshot wounds.
27. Thin blue line flag
The thin blue line flag became a popular symbol in response to anti-police sentiments this decade. Its blue stripe represents police separating society, order and peace from crime, anarchy, and chaos. While some see the flag as a show of support for law enforcement, it's also been divisive. One Md. county executive said this month the flag is a symbol of "dismissiveness" and that it shouldn't be displayed publicly at a police department, while in April, an Ore. woman won a suit after she alleged she was harassed for asking for the flag to not be displayed in her office.
28. Obama's tan suit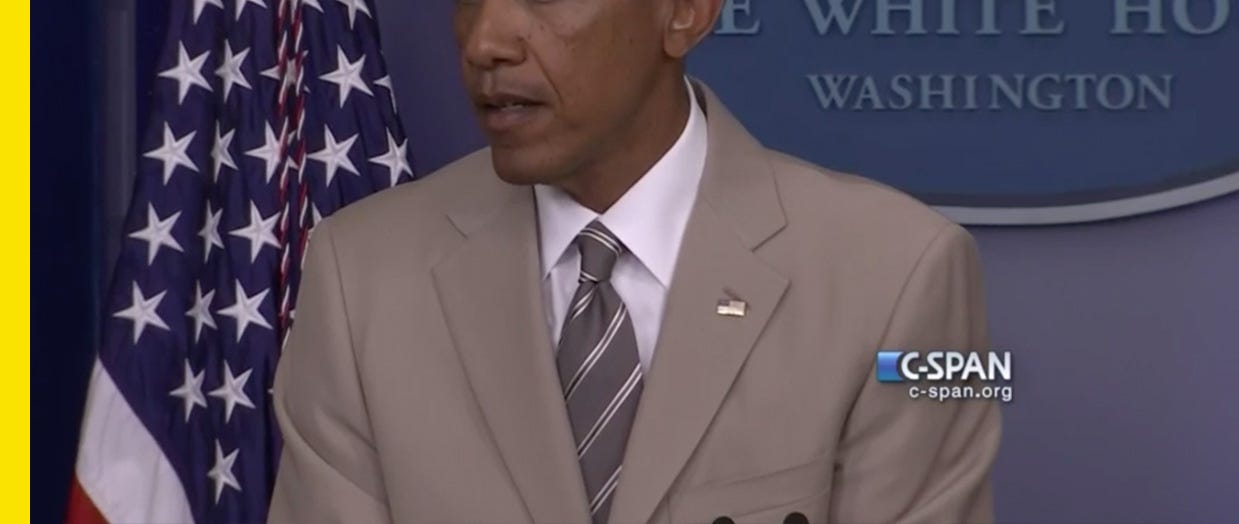 Credit: C-SPAN
The scandal over then-President Obama wearing a tan suit to a press conference the Thursday before Labor Day was dumb, and its anniversary is marked every August 28 on political Twitter. The only opinion about the suit that I actually care about is from the Washington Post's Pulitzer Prize-winning fashion critic Robin Givhan. "It says more about official, federal, political Washington that anything other than a dark suit with a white shirt and red tie counts as some sort of aesthetic heresy," she said in 2014. "That is a conservative two-button suit in a color that is perfectly appropriate for the time of year and the occasion." Today, the suit is often used to compare the difference between Obama's controversies with Trump's.
29. Thanks Obama
Before it was used as a genuine expression of thanks to the 44th president, "Thanks Obama" was criticism. Conservatives used the phrase to sarcastically thank Obama for things like the Gulf oil spill and national debt early in his administration, but there's only so much a president can do. Blaming Obama for things outside of his control contributed to the phrase being used nonsensically, on #fail photos and those gifs of people from infomercials inexplicably spilling things. When Obama filmed a video for BuzzFeed in 2015, he acknowledged the meme after failing to dunk a cookie in a glass of milk.
30. Hillary H
If Hillary Clinton had won in 2016, her H logo may well have been heralded as bold, effective campaign design. Instead, it's remembered for an arrow that pointed right. The H was created by famed designer Michael Bierut, who later wrote in Design Observer that he wanted to create a logo that was "as simple as a peace sign or a smiley face." Though panned when it was released, supporters learned to love the Hillary H. It was distinct and capable of endless adaptations to fit different events, holidays, and groups. For a general election that became a subway series between two New York candidates, the H was reminiscent of the city's public signage.
31. Bernie Sanders campaign logo
While Bernie Sanders promised a political revolution, the wavy lines that underline his logo are as calming as the picturesque Burlington, Vt., waterfront he formally announced his 2016 campaign in front of. Set in the typeface Jubilat with a star dotting the "i," elements of Sanders' wordmark have since become visual shorthand for socialism.
32. Donald Trump campaign logo
Trump's campaign logo isn't particularly sophisticated, but you see the big bold letters and red outline broken up by stars and you know. High school students have used it as inspiration for poster board dance proposals, and depending on how the Trump presidency shakes out, we could see conservative bros 30 years from now wearing shirts and tanks riffing off the Trump logo the same way conservative bros wear Reagan-Bush gear today. Trump has never been subtle about branding himself. As a real estate developer, his branding was black and gold, giving it an aura of success, luxury, and sophistication, even as he declared bankruptcy six times. As a politician, he dropped the black and gold and wrapped his logo in the flag.
33. Caitlyn Jenner's Vanity Fair cover
Caitlyn Jenner publicly introduced herself on the cover of Vanity Fair with the coverline "Call Me Caitlyn" and a portrait shot by Annie Leibovitz. The magazine went to great lengths to keep its July 2015 cover story under wraps, using an offline computer and hand delivering the issue to a printer in Kentucky. When the cover dropped online, it broke the internet, and Jenner's new Twitter account hit 1 million followers in four hours, beating Obama's record for the @POTUS account. Jenner was now the most famous transgender Republican on earth. "I never thought that someday I would be able to do this," she said.
34. Celebrate Pride filter
In 2010, 44% of Americans supported same-sex marriage. By the time the Supreme Court's Obergefell v. Hodges ruling made it the law of the land five years later, that figure had risen to 60%. It was a rapid shift in public sentiment, and one I don't think would have been possible without social media. The internet allowed closeted people to find community and gave them a platform to come out and share their stories. Marriage equality became a civil rights cause for a generation and Facebook's Celebrate Pride filter became a means of showing support. Announced by founder Mark Zuckerberg the day of the ruling, more than 26 million users added the filter to their profile photo.
35. Rainbow White House
Credit: Hunter Schwarz
Barack Obama didn't back marriage for same-sex couples when he took office and only publicly flipped after his vice president did. Still, his strong support turned him into an online gay icon, with memes like the one of him riding a unicorn shooting rainbows out of his hands. The night of the Supreme Court's ruling on marriage, Obama lit up his house in ROYGBIV from East Wing to West, turning Pennsylvania Avenue into Washington's second Pride of the month.
36. Modified "Flag Flagged Maybe"
The happiest day on the internet this decade was June 26, 2015, according to a daily tracking of Twitter sentiments by Hedonometer and reported by the Ringer. It was the day same-sex marriage was legalized, but also, the day Barack Obama sang "Amazing Grace." Just a week earlier, a white supremacist shot and killed nine worshippers at the Mother Emanuel AME Church in Charleston, S.C., so Obama traveled to the state to give the eulogy for the Rev. Clementa Pinckney before he closed in song. The Hedonometer's online happiness ranking gives an average day a score of five, and 6/26/15 scored a 10 (for context, the second happiest day was February 1, 2015, when Katy Perry and Left Shark performed the Super Bowl XLIX halftime show, and it scored an eight). It was a mixture of #lovewins and the president of the United States responding to hate with hope that made June 26 so happy. The feelings of the day were captured in a five-panel cartoon showing a Confederate flag being lowered and a rainbow flag being raised in its place. The original cartoon, by Bob Englehart, appeared in the Hartford Courant on June 22 and was titled "Flag Flagged Maybe," but it was just three panels showing the Confederate flag going down. Someone removed Englehart's signature and added the additional panels showing the rainbow flag going up, and the modified image went viral online.
37. MAGA hat
Credit: Wilfredo Lee/AP Photo
There's an unofficial rule in politics that you don't wear hats ("That's Politics 101," Obama said in 2013 when given a football helmet by the U.S. Naval Academy team. "You never look good wearing something on your head."), so of course Donald Trump broke it. Trump unveiled the "Make America Great Again" hat during a visit to Laredo, Texas in 2015 that was more a product launch than campaign stop. There were instant Twitter parodies and the New York Times called it 2015's "ironic summer accessory." Four years later, wearing any red baseball hat can inspire nervous double takes ("Relax idiots it's just a hat," one parody hat reads). It's a means of expressing political identity for people who claim to hate identity politics. Kanye West said wearing a MAGA hat made him feel like Superman. Seen by supporters as a symbol of love of country and president, and by critics as a symbol of hate, it's one of the most divisive and effective pieces of modern political merch, even if the Gs in "Great" and "Again" don't match.
38. Julian Raven's "Unafraid and Unashamed"
Credit: Hunter Schwarz
Artist Julian Raven considers his massive "Unafraid and Unashamed" painting of Trump to be inspired. He imagined an image of a bald eagle swooping in to save an American flag from falling and decided to paint it after receiving signs, including seeing footage of Trump's Time magazine shoot with an eagle. Raven has toured the painting extensively, showing it in Cleveland outside the 2016 RNC (above), at CPAC, and the Center for Contemporary Political Art in Washington. The National Portrait Gallery declined his offer to show it there and he filed suit against the museum in 2017.
39. Trump's face in things
Credit: via KSDK
In another era, people saw the image of the Virgin Mary in their toast or Jesus in a Cheeto. The phenomenon of seeing faces in things is known as pareidolia, and today, we see Trump. He's been spotted in butter. In clouds. In bathroom tile. In an ear of corn. In this venomous caterpillar. Trump is inescapable, and regardless of whether he's president for one more year or five, he'll be a presence in our lives for the rest of his. We'll see his face on our televisions, our smartphones, and maybe even our tortillas.
40. Trump's vandalized star on the Hollywood Walk of Fame
Credit: Hunter Schwarz
Trump's star on the Hollywood Walk of Fame has become the most enduring site of artistic expression against his politics. Located near the intersection of Hollywood and Highland, it's been subjected to pickaxes, bars, graffiti, and other forms of vandalism (As well as supportive selfies. Nothing but respect!). I unknowingly photographed the first known act of vandalism on the star in September 2015, a yellow "X" that was removed before the end of the day. Despite calls to remove Trump's star, the Hollywood Chamber of Commerce says it and every other star is staying put. "Once a star goes in, it's there forever," Chamber president Leron Gubler told Vulture. "We view it as part of history, and we don't erase history."
41. Notorious RBG
Credit: Hunter Schwarz
Supreme Court Justice Ruth Bader Ginsburg's scathing dissents and workout routines have inspired legions of fans and earned her a nickname that mashed up her initials with a rapper. RBG was the patron saint of a class of "badass" women celebrated by internet feminists and liberals of the '10s. She's inspired Tumblr blogs, books, a documentary and film (both released in 2018), and so much art, including the above pieces by artist Rebecca Williams.
42. Bernie or Hillary?
Bernie on Nirvana: Nevermind was a groundbreaking album. Not only did it start the Grunge movement of the '90s but it inspired other artists of the time.
Hillary on Nirvana: "Smells Like Teen Spirit" is my favorite song!
Bernie on Star Wars: Star Wars is an excellent series and I thought Episode 7 was a nice return to the franchise's roots.
Hillary on Star Wars: *makes "Live Long and Prosper" hand signal
Bernie on the Bernie or Hillary meme: This meme portrayed me as thoughtful, friendly, and knowledgeable about culture while presenting my opponent as basic.
Hillary on the Bernie or Hillary meme: None of these topics we're being compared on are even political topics and all the quotes are made up.
43. Sharpwriter's "The Donald"
Credit: SharpWriter
Going viral as a creator in the '10s often meant seeing your work stripped of its authorship. You'd get a "who made this" with a string of face-with-tears-of-joy emoji in lieu of credit, and to the aggregators would go the likes, comments, and follows. But content doesn't just ~bubble up~ on the internet without someone making it. Few know this as well as Jason Heuser, AKA SharpWriter, whose depictions of America's presidents as zombie fighting, machine gun wielding action heroes are internet catnip. They've appeared everywhere from Donald Trump Jr.'s Instagram feed to the floor of the U.S. Senate without attribution. His "The Donald" is bursting with 'Merica and shows Trump as a pro wrestling president, standing on a tank as it storms a beach with a giant flag and explosions behind him. Heuser approaches his work as a history buff, including biographical details as Easter eggs for each president.
44. "Make Everything Great Again"
Credit: Mindaugas Kulbis
One of the most famous murals painted on the Berlin Wall is "My God, Help Me to Survive This Deadly Love." It depicts a 1979 photo of the then Soviet and East German leaders engaged in the "socialist fraternal kiss," a platonic communist greeting. The iconic image inspired a 2016 mural of Vladimir Putin and Donald Trump locking lips that went up in Lithuania by artist Mindaugas Bonanu called "Make Everything Great Again." Despite the homage, it wasn't the type of art that would go over well in Russia or the U.S. In Russia it's illegal to depict Putin in makeup. A popular image showing the Russian leader in lipstick and eye shadow goes against a list of banned "extremist" images because it suggests he has a "nonstandard sexual orientation." In the U.S., although the First Amendment protects our right to depict our leaders in drag, suggesting a straight politician is gay is typically frowned upon because it's seen as homophobic. Even so, Trump's deference to Putin, including siding with him over U.S. intelligence during 2018's Helsinki summit, has led to various artistic depictions of the two as lovers. When the New York Times published cartoons of Putin and Trump in love last year, the paper was widely criticized. But other people enjoy the art. "They both have huge egos, and it's amusing to see they are getting along well," said Dominykas Čečkauskas, the co-owner of the restaurant "Make Everything Great Again" was painted on.
45. "Taking a Stand in Baton Rouge"
Credit: Ramil Sitdikov/Sputnik via AP
One of the defining photos of the Black Lives Matter movement was a first for both the photographer and subject. Photographer Jonathan Bachman had never shot a protest before when he captured the now-iconic image of nurse Ieshia Evans being arrested at the first protest she had ever attended. "She had no facial expression at all. She just stood there," Bachmann told Reuters. "I knew it was a good frame and it was something that would tell a story." The protest, in Baton Rouge, La., was held the week after Alton Sterling was fatally shot by police, and the image was compared online to the image of "Tank Man" in Tiananmen Square and Marc Riboud's photo of a Vietnam protester holding a flower in front of National Guardsmen with bayonets. Pepsi would later be accused of attempting to recreate this moment with Kendall Jenner giving an officer a can of soda before the ad was pulled.
46. The other Donald Trump campaign logo
After Mike Pence was announced as Trump's running mate, the Trump Make America Great Again Committee sent out an email with a new logo for the ticket showing an interlocked "T" and "P" that looked downright suggestive. It was never used again in an official capacity, but will live forever in our hearts.
47. This Is Fine
Credit: via Imgur
Is there a meme more fitting for our uncommon times than "This Is Fine"? Trying to excel in your career, maintain a social life, drink enough water, exercise, and text everyone back is hard enough. Try doing all that with the constant and nagging worries of impending climate catastrophe and cyber fascism. The full six-panel comic, illustrated by K.C. Green for his webcomic "Gunshow" in 2013, shows a dog drinking from its mug, even as flames close in to melt him alive. "This is fine," the dog says. "I'm okay with the events that are unfolding currently." It communicates willful ignorance and denial, but also the feeling of hopelessness that comes from living through the madness of the modern news cycle.
48. Hillary Clinton's white pantsuit
Credit: C-SPAN
There were many colors associated with the suffrage movement, including yellow, purple, and green, but it's white that has most endured. It was the color worn by suffragettes on the march in the early 20th century and by Geraldine Ferraro, who became the first female vice presidential nominee of a major party in 1984. Hillary Clinton wore white 32 years later when she became the first woman to accept a major party's nomination for president. The pantsuit she wore was designed by Ralph Lauren, and the tradition of "suffragette white" continues today. Wearing white has become synonymous with celebrating women's political progress. At February's State of the Union address, a crowd of mostly Democratic women wore white pantsuits, blazers, capes, shirts, and dresses to recognize the gains women made in Congress following the 2018 midterms.
49. Edel Rodriguez's Trump
Credit: Time
Edel Rodriguez's Trump is all hair, mouth, and orange skin, boiling the man down to his loudest, most eccentric features. The illustration made its first Time magazine cover appearance in August 2016 with the coverline "Meltdown" and returned two months later for a "Total Meltdown" sequel. Since then, the image has evolved into new forms, from wrecking balls and bombs to a hurricane and comet. Rodriguez's Trump has no vision and never stops screaming. It's one of the defining editorial cartoons of this president.
50. Trump's "Access Hollywood" response video background
Donald Trump's not one to say he's sorry, which made his apology for his "Access Hollywood" comments that he grabbed women "by the pussy" all the more remarkable. Released on October 8, 2016, Trump's campaign considered four backgrounds for the video, per Tim Alberta's "American Carnage": campaign signage, a flat blue background, daytime Manhattan, or nighttime Manhattan. They went with nighttime Manhattan, which looked like a scene from a dystopian thriller with its purple glow. "I've said and done things I regret," Trump said in the video. "I was wrong, and I apologize."
51. Russian propaganda
The Internet Research Agency was founded in St. Petersburg, Russia, in 2013, at the height of a new media gold rush that saw upstart clickbait sites become traffic behemoths overnight. Newsfeeds were hungry for content and the clicks were relatively cheap, so start-up publishers could grow audiences relatively quickly. So could foreign troll farms. The IRA reached 126 million on Facebook alone, a 2018 report on Russian interference in the 2016 election by the social media research firm New Knowledge found. The IRA was a propaganda marketing agency that employed hundreds and first targeted Russian citizens with pro-Putin messages before turning to the U.S. in 2014. Workers pretended to be American, posting comments on websites and creating fake accounts and pages. Content was divisive and reinforced tribalism, like a warped funhouse mirror of American politics at its worst. As Cambridge Analytica whistleblower Christopher Wylie put it in "Mindf*ck," "America is now living in the aftermath of the first scaled deployment of a psychological weapon of mass destruction."
52. 2016 election results map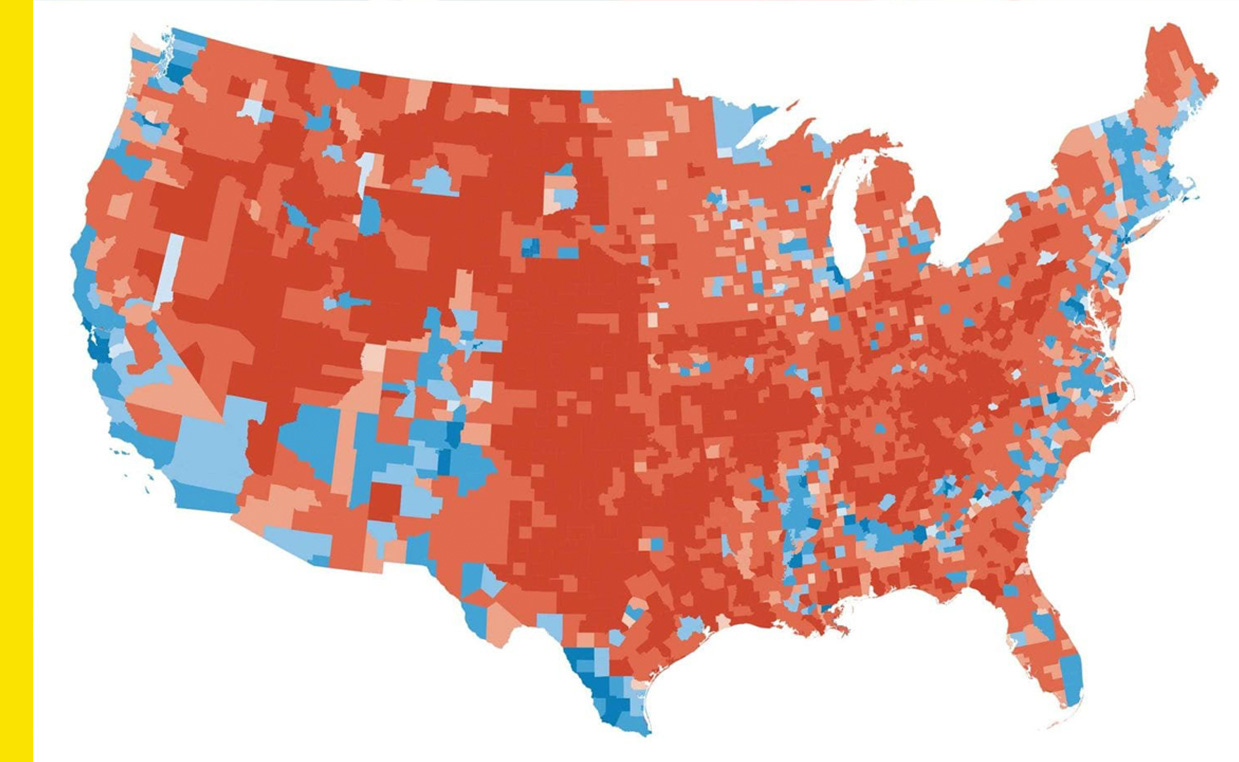 Credit: Washington Post
President Trump loves the map of his 2016 election results. A blown up framed copy of the map was spotted in the White House, and in an interview with Reuters in 2017, Trump handed copies of the map out to reporters. "The red is obviously us," he said. Trump lost the popular vote by 2.8 million votes but you can't necessarily tell by looking at his favored county-by-county map. If you show 2016 election results as a cartogram with area shown relative to population, America no longer looks so red. As a 3D prism map with counties rising up based on their population, the sea of red is towered over by tall blue columns. Trump tweeted out an inaccurate version of the county-by-county map when the impeachment inquiry began in October. It read "Try to impeach this" and showed some Clinton counties red for Trump. Ironically, Snopes sourced the map to a blog post about how election maps can be misleading.
53. Photo of Trump's Inauguration crowd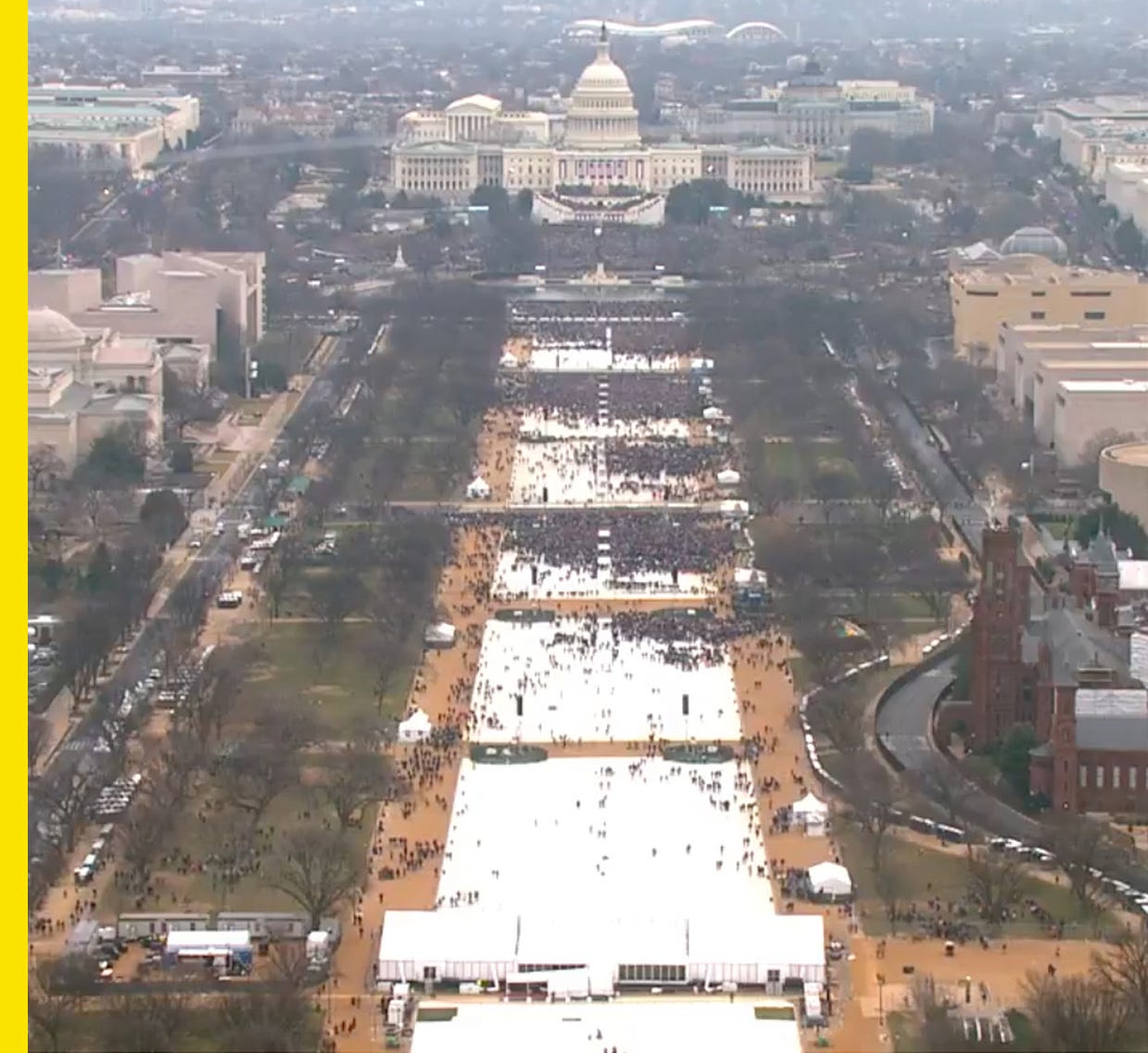 One of Donald Trump's first acts as president was to request official government photos be edited. Then-White House press secretary Sean Spicer claimed Trump's swearing in was "the largest ever," but side-by-side photos comparing the inaugurations of Trump vs. Obama showed that wasn't true. According to records obtained through a Freedom of Information Act request by the Guardian, Trump called National Park Service director Michael Reynolds the morning after taking office, and one NPS communications official whose name was redacted "got the impression that President Trump wanted to see pictures that appeared to depict more spectators in the crowd" since the released photos had "a lot of empty areas."
54. Pussyhat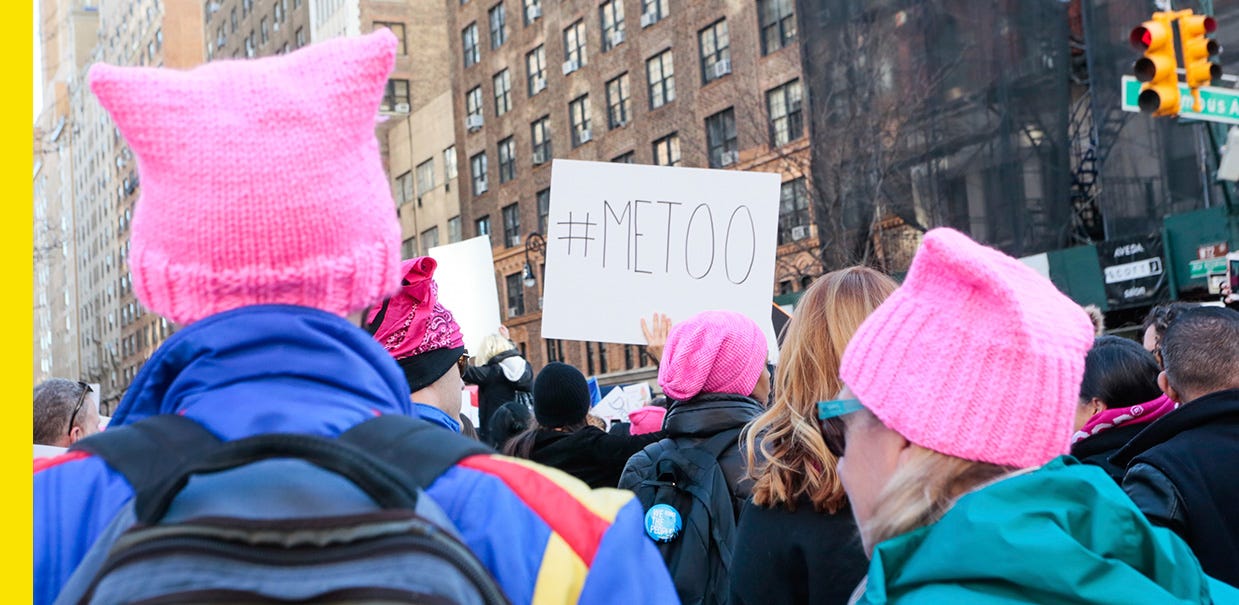 Credit: Erin Lefevre/Spa via AP Images
The pussyhat was craftivism that reappropriated Donald Trump's "grab 'em by the pussy" line into defiant DIY headwear. Created by Krista Suh and Jayna Zweiman, the hat was the defining symbol of the inaugural Women's March. As a foil to the MAGA hat's conformity, the pussyhat's lack of design instructions allowed for "individual creativity in the service of collective solidarity," as Michael Bierut put it. The hats fell out of fashion by the next year's march because some saw them as not inclusive to transgender women and women of color.
55. Shepard Fairey's "We The People"
Shepard Fairey's "We The People" series was his biggest hit since "Hope," ubiquitous at the protests of the early Trump administration and still popular images today. Along with posters by artists Ernesto Yerena and Jessica Sabogal, the series was part of a commission by the nonprofit Amplifier Foundation, which blew past its Kickstarter fundraising goal to raise money for distribution. The posters appeared as ads in the Washington Post, the New York Times and USA Today, and thousands were printed for Women's Marches. Fairey told the Los Angeles Times he decided to depict a black girl, Latina woman, and Muslim woman because he felt they represented people who felt attacked by Donald Trump. The week after the Women's March, demonstrators at airports brought out the poster of the woman in an American flag hijab again to protest Trump's executive order banning travel from Muslim-majority countries.
56. Mark Zuckerberg's photoshoot across America
In 2017, the CEO of the company that owns the top influencer app in the world tried his hand at influencing. Or maybe he was testing the waters for a political run? Mark Zuckerberg hit the road in 2017 with a campaign-style tour of America that was documented and uploaded to Facebook. He went fishing in Alaska, learned about fracking in North Dakota, and visited with locals in small-town Iowa. Zuck denied he was going to run for office and said the tour was a personal challenge to visit 30 states, "learn new things and grow outside of my work." Regardless, the trip didn't do much for his public image. According to BuzzFeed News, Zuckerberg's Q Score, a likability rating for public figures, barely budged in 2017.
57. Protest signs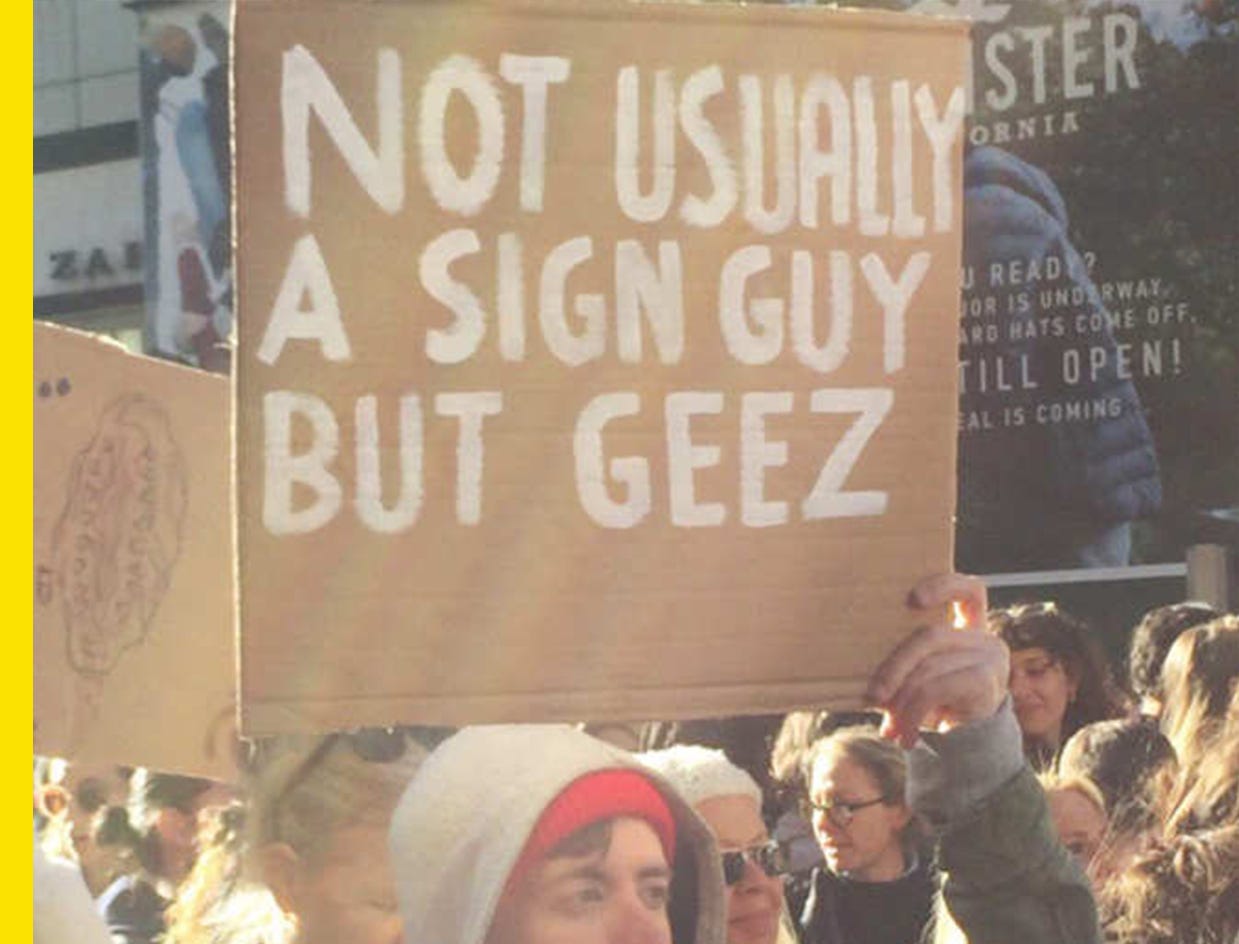 Credit: via New York
The protest movements of the 1960s didn't have Instagram, but if they did, they might have featured more puns. Activism in the social age meant protests had a global audience, and posters with clever messages could travel far and wide. One trope was to comment on weekend brunch plans that were canceled to attend a demonstration, or to identify as someone who didn't go to protests or hold up signs before Trump was elected. A Washington Post-Kaiser Family Foundation poll in 2018 found 20% of Americans had attended a rally or protest in the previous two years, and one-in-five of those who did had never attended a rally or protest before.
58. Trump's tie
Credit: Evan Vucci/AP Photo
As a reality show host, Donald Trump seemed partial to gold and pink ties, but since becoming a politician he switched to red. The long red power tie is a Trump signature and as much a part of his caricature as his hair. Its length is a running joke for the visual parody account @TrumpTies, where the tie has taken on a life of its own, often snaking around obsequious Trump allies. "It can be given animal-like qualities," the anonymous creator behind the account told Yello in an interview. Making fun of Trump's physical appearance seems like a "cheap shot," @TrumpTies said, but clothes are fair game. "Neck ties are a little bit weird."
59. F*ck Trump
Credit: Hunter Schwarz
The single most prolific political street artist in Washington, D.C., is probably Dirty Knucklez, who writes "F*ck Trump" all over town. His work is simple and profane, written in Sharpie and spray paint on street signs, utility boxes, construction signs, and walls across the district — everywhere except near schools and churches, he once wrote in his since-deleted Instagram account. "F*ck Trump" became part of the fabric of Donald Trump's Washington.
60. "Fearless Girl"
Credit: Steven Gomez
Sculptor Kristen Visbal's "Fearless Girl" statue was commissioned by the financial services firm State Street Corporation and placed the day before International Women's Day 2017 facing Wall Street's "Charging Bull." It became an immediate tourist stop but was accused of being a marketing ploy for phony corporate feminism. Seven months later, State Street Corporation paid $5 million and settled claims of pay discrimination against 305 female employees, but denied the accusations.
61. "Handmaid's Tale" outfits
Credit: Bill Clark/CQ Roll Call via AP Images
"The Handmaid's Tale" was released on Hulu on April 26, 2017 and brought Margaret Atwood's dystopian novel to life. Set in the Republic of Gilead, a theocratic authoritarian state that rules after the fall of the U.S., fertile women are subjugated as "handmaids" and forced to wear white bonnets and long red robes during a time of falling birthrates. The show won Emmys and fans, and before long, demonstrators donned handmaid outfits to protest reproductive issues in the U.S. and around the world. "Because it's a visual symbol, women can use it without fear of being arrested for causing a disturbance, as they would be for shouting in places like legislatures," Atwood told the Guardian.
62. George W. Bush's paintings
A 2013 leak of hacked Bush family email accounts included a handful of paintings by former President Bush, including self-portraits in a shower and tub. The following year, W. unveiled portraits of world leaders from Vladimir Putin to Tony Blair. Our ex-POTUS had become a painter, and his skill shocked and awed art critics, and even his wife, former first lady Laura Bush, who wrote in the forward to his book "Portraits of Courage," "If someone said, 'One day you will be writing a foreword for a book that includes George's paintings,' I would have said, 'No way.'" Bush painted his dog Barney, Jay Leno, former House Speaker Boehner. His latest work, depicting wounded U.S. veterans who served since the 9/11 attacks, drew criticism from those who saw it as an artistic attempt at redemption for a war started under false pretenses, but it also raised money for his presidential library's Military Service Initiative through book sales.
63. "Rest in Peace, Pepe"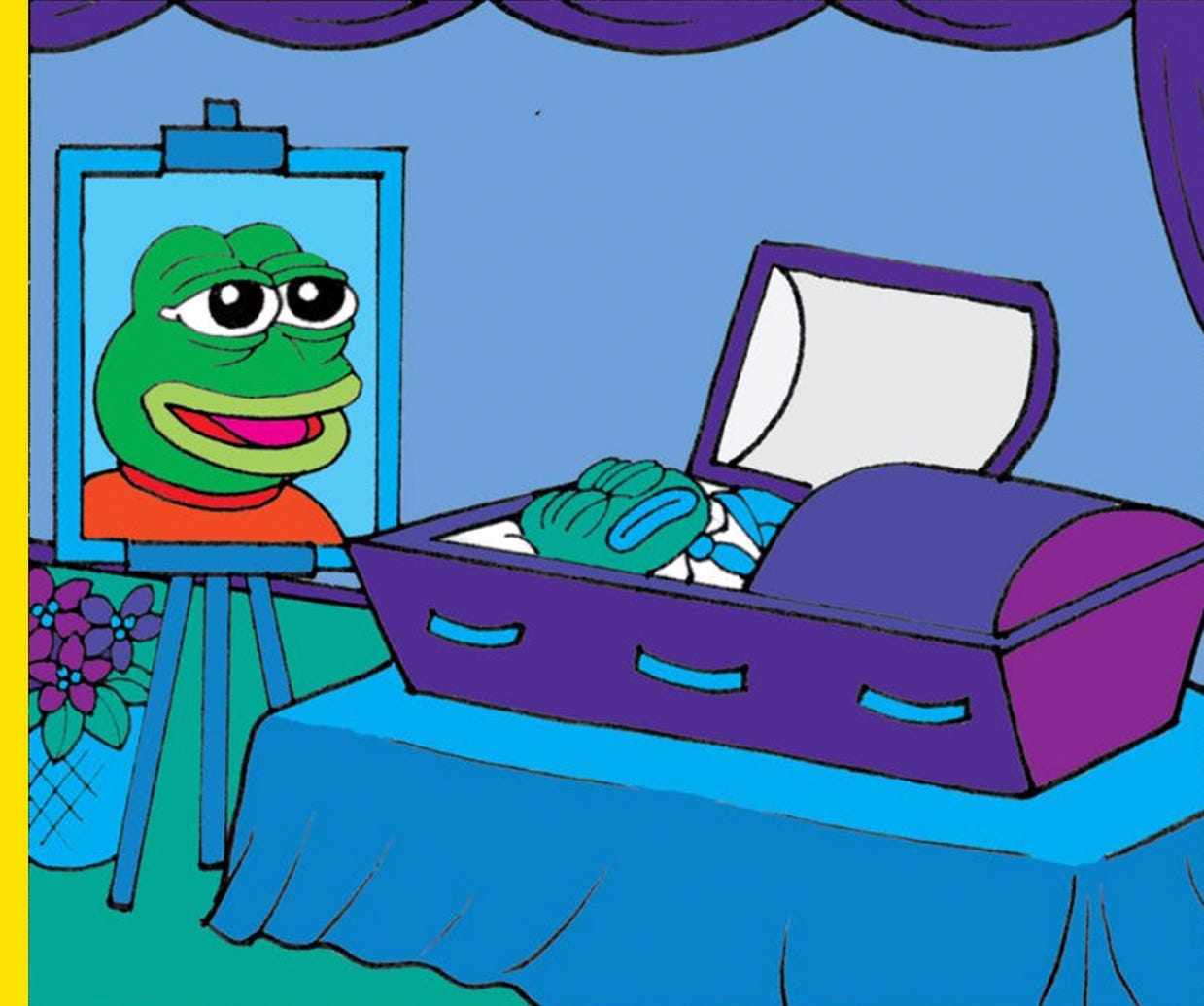 Artist Matt Furie watched his cartoon frog Pepe become an unofficial internet mascot before getting hijacked by the so-called "alt-right" during the 2016 campaign. He did his best to fight back, writing an op-ed for Time and sending cease-and-desist notices to InfoWars and others who used the cartoon for hate, but it's hard to reclaim images after they're branded extremist symbols. In May 2017, Furie killed Pepe off in a comic titled "Rest in Peace, Pepe," and announced plans two months later to resurrect him as part of a "Save Pepe" campaign. Today, Pepe has become a symbol for pro-democracy protesters in Hong Kong.
64. Alexandria Ocasio-Cortez campaign logo
Alexandria Ocasio-Cortez's 2018 campaign logo captured the excitement and hope of her grassroots Millennial message with its upward sloping text and exclamation marks. It was a strong, fresh visual identity that put a new spin on the tropes of political design. There were stars, but they dotted an inverted exclamation point. Rather than the standard red, white, and blue, she used blue, yellow, and purple, a color scheme that's adjacent to the Americana color palette. AOC's campaign identity, by the New York firm Tandem, had an impact on political design trends and foreshadowed the innovative design of 2020's Democratic field.
65. Robin Bell's projections
Credit: @bellvisuals
Tagging a building in spray paint is a crime. Tagging it in light, though, you can get away with. Projection artist Robin Bell used the facade of the Trump International Hotel Washington, D.C., to project messages like "Sh-thole," "Unfit to serve," and "There is a rapist in the White House" on a semi-regular basis.
66. Trump attacking CNN gif
Trump's attacks on "fake news" usually have more to do with inoculating himself against negative news reports than actual inaccurate information. "I do it to discredit you all and demean you all so that when you write negative stories about me no one will believe you," he told CBS News reporter Lesley Stahl in 2016. CNN is one of Trump's favorite targets and he called the network the "Fraud News Network" in one 2017 tweet. The tweet was posted from both his @realDonaldTrump and @POTUS accounts and included an edited video of what appeared to be his WrestleMania appearance showing him body slamming a man with CNN's logo for a head. In a statement following the tweet, the Committee to Protect Journalists said Trump's comments could embolden autocratic leaders around the world.
67. Obama's post-Charlottesville tweet
President Trump's "both sides" response to the deadly white supremacists attack at 2017's Unite the Right rally became his biggest controversy since the "Access Hollywood" tape while former President Obama's response set a Twitter record. @BarackObama tweeted out a Nelson Mandela quote — "No one is born hating another person because of the color of his skin or his background or his religion…" — along with a photo by White House photographer Pete Souza showing Obama looking into a window with four young children. The image was taken in June 2011 after Obama attended a ceremony at daughter Sasha's Bethesda, Md., school. Twitter announced three days later that it was the most-liked photo ever on the social network. It now has more than 311,000 likes.
68. Toppled, vandalized, and/or removed Confederate statues
The site of a Jefferson Davis Monument in New Orleans that was removed on May 11, 2017. Credit: Bart Everson
Typically the losers of a war don't get statues, but that wasn't the case for the Civil War. There are about 1,500 Confederate monuments in the U.S., a 2018 Southern Poverty Law Center survey found, and most of them have been built since 1900. The group United Daughters of the Confederacy pushed to erect monuments beginning decades after the war ended, and mass production lowered their costs, paving the way for their proliferation. Some Confederate statues came from the same manufacturers as Union ones and were identical in all but the initials on their belt buckles. Confederate symbols have occupied a precarious place in the American psyche, but opposition to them crystallized following the Charleston attack. There were calls to take down the Confederate flag at the South Carolina State House and retailers like Walmart and Amazon pulled Confederate items. In the years since, Confederate statues have been toppled and vandalized across the country and monuments have been removed in locations as disparate as Durham, N.C., Los Angeles, and Helena, Mont. Fallout over the Unite the Rally, organized by white supremacists to protest plans to remove a statue of Confederate general Robert E. Lee, further catalyzed efforts to take down Confederate symbols.
69. Trump yelling at lawnmower kid
Credit: C-SPAN
11-year-old Frank "FX" Giaccio got to mow the Rose Garden lawn in September 2017 after writing the White House offering his services. President Trump walked out to surprise Giaccio — "as if this were an episode of The Apprentice," Reuters photographer Carlos Barria wrote — but couldn't get his attention. Giaccio was so focused on the task at hand that he missed two attempts by Trump to greet him before his father stopped him. Barria, the photographer, captured the moment that took off on social media and has become a recurring meme depicting Trump as clueless, shouting questions or offering administration job to an uninterested child. "The image of Trump shouting at a kid who is mowing his lawn might have many interpretations in today's politically polarized United States," Barria wrote. "But for me it was just a kid who loved what he was doing, to the point he almost appeared to ignore the President."
70. JR's "Kikito"
Credit: @JR
Days after the Trump administration ended the Deferred Action for Childhood Arrivals program, French artist JR unveiled an oversized image at the U.S.-Mexico border of a young boy who appeared to peek over the wall. The image first came to JR in a dream, and when scouting for land to erect the piece, he met Kikito, a one-year-old from Tecate, Mexico, who became the model. A child has "no idea that's a wall that divides people — he has no idea of the political context," JR told NPR. "What is he thinking?" Kikito's image was blown up and secured on scaffolding on the Mexican side of the wall, facing the U.S., and it attracted visitors from both countries. JR celebrated how the piece brought people from both sides of the wall together, and the following month he held a one-day "Giant Picnic" with a dining table installation that crossed the border.
71. Conor Harrington's "The Blind Patriot"
Credit: Hunter Schwarz
The 100-foot-tall mural "The Blind Patriot" shows a figure in Revolutionary War-era clothes, his face obscured by the stripes of the flag. It was painted in downtown Miami in 2017 by the Irish-born Conor Harrington, who said the piece is meant to explore America's relationship with its flag and is inspired in part by "the awful blackballing of Colin Kaepernick."
72. Amy Sherald's Michelle Obama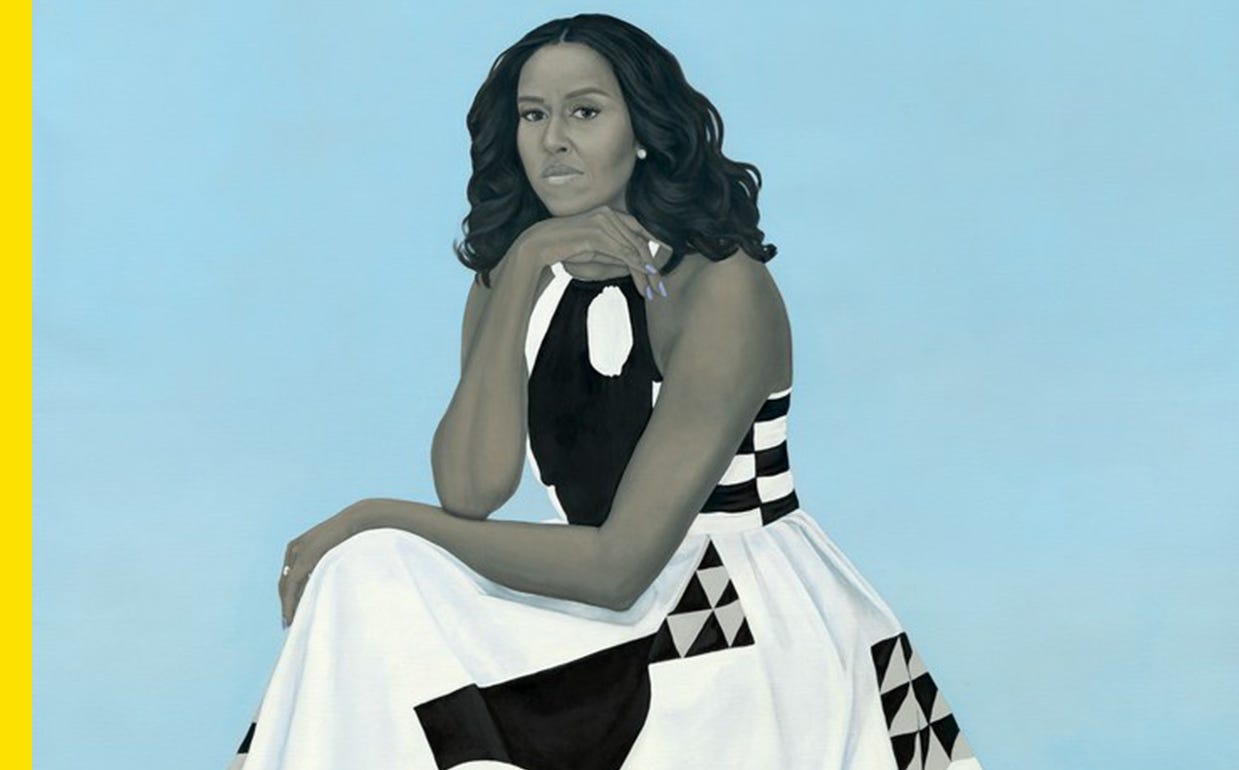 At its unveiling, Michelle Obama's official portrait was criticized by some who said it looked nothing like her or suggested the clothes outshined the woman. Barack called it "hotness." What flash critics on Twitter failed to recognize was how the painting would become a movement. Amy Sherald's depiction of the former FLOTUS was so popular the National Portrait Gallery had to move it to a new, larger room a month after its debut. The Milly dress Obama wears certainly shines. Based on the brand's 2017 equality-inspired collection, it's become perhaps more iconic than anything the ex-first lady wore in the White House and inspired little girls in a way typically reserved for Elsa from Frozen. The solid blue background later seemed like a possible inspiration for the robin's egg blue used on the cover of Obama's subsequent Becoming memoir. As for the grey skin tone, it's a Sherald trademark. "It feels more powerful than if I painted the skin brown," she told Vogue.
73. Kehinde Wiley's Barack Obama
You can mark the seasons of Barack Obama by the art that depicts him. Obama 2008 was the promise and Americana of Shepard Fairey's "Hope," while Obama 2012 was "Not Bad" and "Deal With It" memes. Post-presidency Obama is Kehinde Wiley's portrait showing 44 sans tie seated against a green flora backdrop. The painting pops with color and life. Leaves creep into the foreground while flowers symbolize Obama's biography — purple African lily for his father's native Kenya, white jasmine for his own birthplace of Hawaii, and orange and pink chrysanthemum for Chicago. It's ultra-contemporary presidential pop art and downright psychedelic, suggesting a legacy that's still blossoming.
74. Trump's Space Force logos
When America one day fights its first ever space war, its soldier-astronauts will likely not be wearing any of President Trump's Space Force insignias. Released by the Trump campaign to be used in merchandise, they represented an unprecedented effort by a president to fundraise off a proposed military branch, and no one seemed to care but Obama's former ethics czar. I wrote that the logos were more Buzz Lightyear than Buzz Aldrin, and a Freedom of Information Act request by Yello found the Air Force didn't anticipate any of the logos being used because most of them infringe on other's trademarks.
75. Manuel Oliver's murals
Credit: Rob Groulx
Joaquin "Guac" Oliver was 17 years old when he was killed in the Parkland shooting, but his memory is kept alive by his father Manuel. The elder Oliver became an artist-activist following his son's death, painting mural after mural of Joaquin. So far, he's created more than 30 murals and counting, with messages like "We Demand a Change," "We Demand to Live," and "All We Are Saying Is Give Peace A Plan."
---
Subscribe to Yello for the latest news on the culture, branding, and visual rhetoric of politics, delivered each week:
---
76. Sarah Palin's sponcon
Say what you will about Sarah Palin, but the former Alaska governor has been ahead of the curve. Her anti-elite, anti-intellectual reality-TV populism preceded Trump, so perhaps her turn as an influencer will predict an era where political celebrities hawk products rather than hold elected office (Tomi Lahren's athleisure line, anyone?). Palin promoted Teami's skinny tea with an offer for 15% off with code PALIN using this selfie in April 2018.
77. Trump's Kim photo-ops
Credit: White House, Evan Vucci/AP Photo
Within the span of a few weeks, President Trump got photos with the two most famous Kims on the planet. He met with Kim Kardashian West in the Oval Office on May 30, 2018 to discuss criminal justice reform, and with Kim Jong Un in Singapore on June 12 in hopes of pushing denuclearization for North Korea. The former has proven more effective than the latter (Trump signed the First Step Act in December 2018, but North Korea refuses to get rid of its weapons unless the U.S. closes its "nuclear umbrella" in the region), but the pair of photo-ops gave legitimacy to their respective Kims. KKW secured clemency for Alice Marie Johnson, a first-time nonviolent offender, while KJU scored a propaganda win that burnished his reputation in North Korea and elevated his international standing, all without having to give anything up.
78. Trump's face at the Brownsville detention facility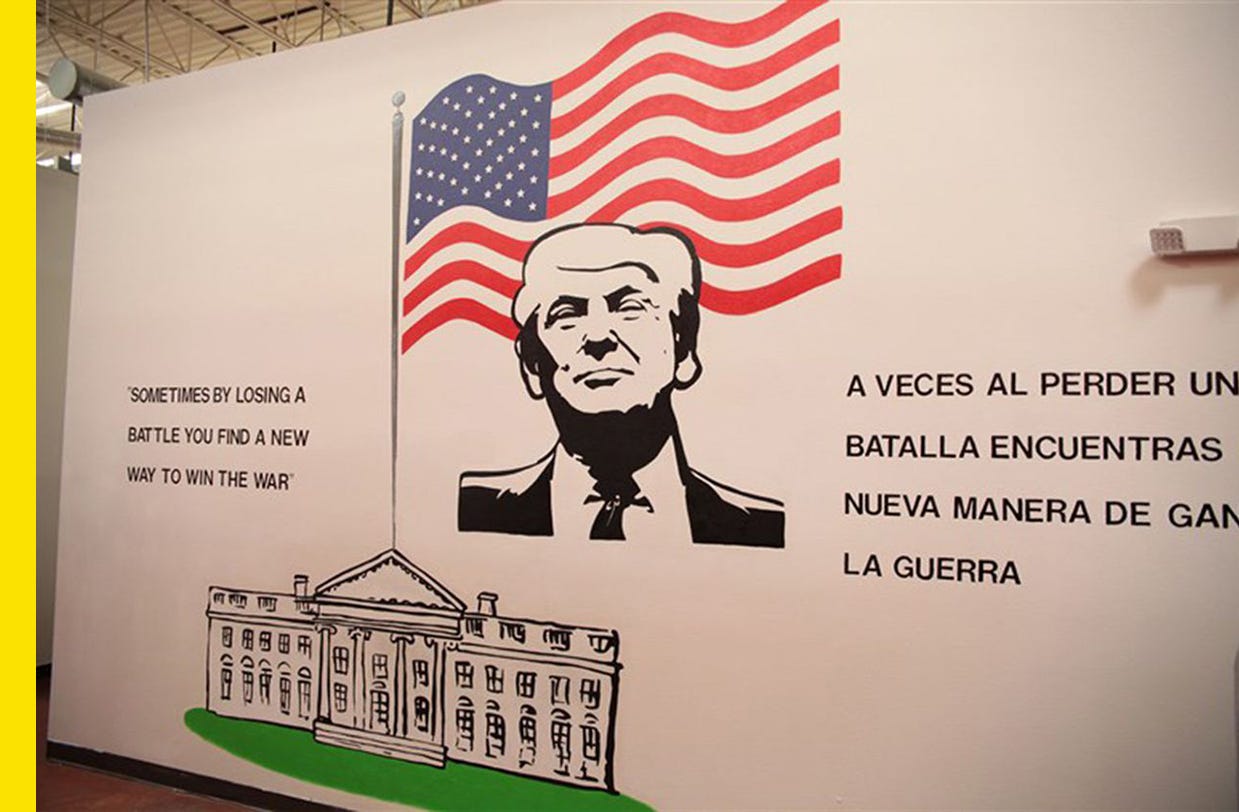 Credit: U.S. Dept. of Health and Human Services
"Sometimes by losing a battle you find a new way to win the war." Those were the words accompanying a mural of President Trump in a converted Walmart in Brownsville, Texas, that held more than 1,000 migrant boys. "Kids would tell me it was an odd image to see, that it scared them," one woman who conducted legal screenings in the facility told the San Antonio Express-News. "They didn't like it." There were murals of other presidents too, but their quotes were more positive. Obama's said in part "My fellow Americans, we are and always will be a nation of immigrants," while Eisnerhower's said, "May we, in our dealings with all peoples of the earth, ever speak truth and serve justice." The Trump mural was painted by an employee of Southwest Key, the company that operated the shelter.
79. Shoes
Credit: Ramon Espinosa/AP Photo
Shoes have been used to build haunting monuments to lost lives in the late '10s. In March 2018, 7,000 pairs were left outside the U.S. Capitol by the advocacy group Avaaz to represent children killed by guns since the Newtown shooting. Three months later, shoes were left outside the Puerto Rico Capitol building in San Juan in memory of those killed by the Hurricane Maria the year before.
80. Melania Trump's "I Don't Really Care Do U?" jacket
Credit: Zara
As first lady, Melania Trump has made the South Lawn and Air Force One stairs her runway, showing off her FLOTUS style in pricey boots, jackets, and heels. But nothing turned heads like her $39 green Zara "I don't really care do u?" jacket. Worn to and from her visit to a Texas shelter for migrant children in June 2018, her spokeswoman said the jacket had "no hidden message," but President Trump later disputed the explanation, tweeting it was intended as a dig at the media. In an interview with ABC News last year, the first lady said the message was "for the people and for the left-wing media who are criticizing me" and added "I would prefer that they would focus on what I do and on my initiatives than what I wear." The jacket's white all-caps graffiti-style lettering made it easy to replicate knock-off jackets that read "I really do care" in protest.
81. Nike's "Dream Crazy" ad
Everyone had an opinion about Nike's Colin Kaepernick ad. Tweeted out by Kaep himself on Labor Day 2018, some responded by burning their Nike shoes while others bought more. The company saw a 31% increase in online sales in the week after the ad was released compared to the previous year and received $163 million in earned media. Created with the agency Widen & Kennedy, the campaign positioned "Just do it" as a message of activism and included billboards of Kaepernick with the tagline "Believe in something, even if it means sacrificing everything" in New York City and San Francisco. "You can't try and go down the middle of the road," Nike founder Phil Knight told Fast Company. "You have to take a stand on something, which is ultimately I think why the Kaepernick ad worked." "Dream Crazy" won an Emmy in September.
82. Pablo Delcan's anonymous New York Times op-ed illustration
Designer Pablo Delcan was about to go on paternity leave when he got an unusual request from the New York Times. An anonymous Trump administration official was going to publish an op-ed and the Times wanted him to do an illustration for it. Typically, Delcan gets the bare bones of a piece before it's published, but for this story, he wasn't told much. "I Am Part of the Resistance Inside the Trump Administration" was published as the illustration was being finalized, which added "anxiety to the process," Delcan told me last year, but the image of a small group of people saving a map of contiguous United States from plunging off a cliff felt "so immediate." In the op-ed, the anonymous author called Trump amoral and said a group of people in the administration "are trying to do what's right even when Donald Trump won't." Since anonymous had no byline or headshot, the illustration was used on cable news as a placeholder.
83. Tracie Ching's "KavaNOPE" poster
Credit: Hunter Schwarz
The confirmation hearings for Supreme Court nominee Brett Kavanaugh were highly visual. There were moments memorialized in photo, like Kavanaugh's angry testimony, Christine Blasey Ford's eyes-closed swearing in, and that time Sen. Jeff Flake (R-Ariz.) looked like he was in a painting. Outside, Washington was covered in "KavaNOPE" street art posters. The group Unite for Justice tapped artist Tracie Ching for the poster, which echoed parodies of Shepard Fairey's "Hope" with the placement of the "Nope." By the end of the hearings, the posters were thrashed.
84. Ice sculptures
Credit: Ligoranoreese
The growing threat of climate change has made temporary ice sculptures a popular form of art. In London, Scandinavian artist Olafur Eliasson placed blocks of ice sourced from Greenland, while the team behind @world_record_egg put up an ice sculpture of climate activist Greta Thunberg. In the U.S., artist team LigoranoReese used ice to spell out things like "The Future," "The American Dream," and "Truth," which was placed in Washington, D.C. in September 2018. It lasted eight hours before melting.
85. Cesar Sayoc's van
Credit: via NBC
Cesar Sayoc's van was like a radicalized right-wing Facebook feed come to life, covered in crosshairs and memes — including Sharpwriter's "The Donald." Sentencing documents describe Sayoc as "obsessive, paranoid, and angry," a "Donald Trump super-fan," and an avid Fox News viewer who "conflated his personal situation with the perceived struggles of Trump supporters across the country, and even the president himself." He plead guilty to sending bombs to Democrats in March and was sentenced to 20 years in prison.
86. JR's "Guns in America"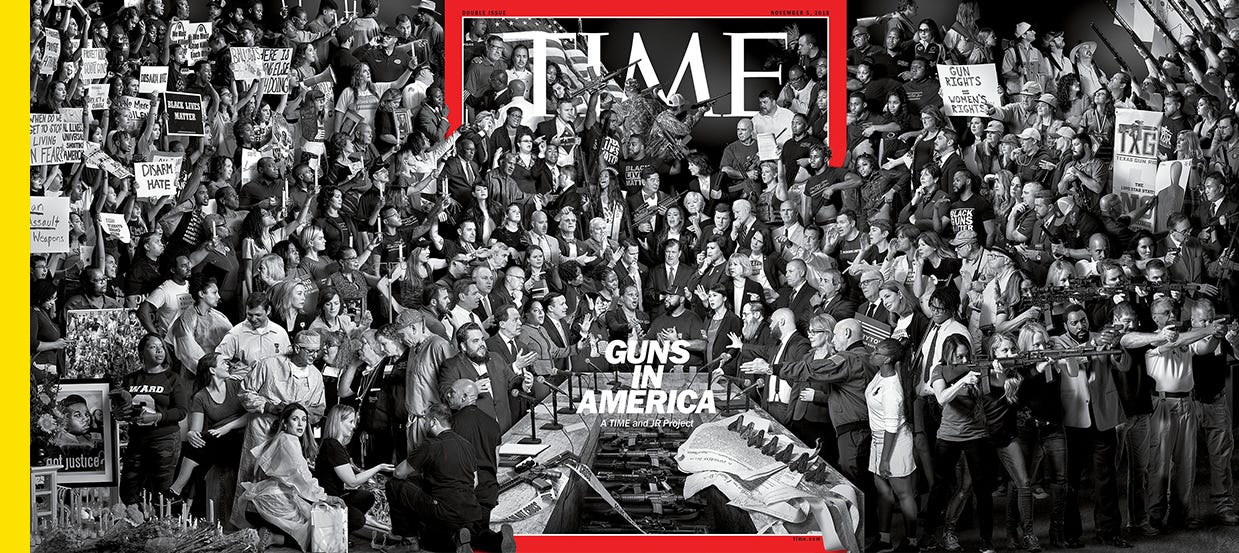 Time partnered with JR for its November 5, 2018 cover on guns, and the artist filmed and photographed 245 people from Dallas, St. Louis, and Washington over the course of five months. The project sought to hear from a range of perspectives on our national gun debate, and the subsequent cover featured activists, hunters, teachers, police officers, and lawmakers. The image was turned into digital installations and a physical mural in New York City that was vandalized after it went up with a red "11" after the Pittsburgh shooting that killed 11 people.
87. Obama's "give it to you straight" Obamacare call to action
Obama traditionally relied on memes and internet humor to promote the Obamacare enrollment window. There was his "Between Two Ferns" interview and BuzzFeed video with a selfie stick. Out of office, though, he played it straight ... almost. "You don't need to see me taking jump shots or sitting between a couple of forest plants in order to know it's important to have health insurance," he said sitting in a living room for his 2018 video. It ended, however, with "Deal With It" glasses floating down onto his face as the background transformed into a tropical oasis with a rainbow. "You got a filter on me, don't you?" Obama asked. Ba-dum ching. By 2018, internet culture had become just culture, and simply referencing a meme was no longer novel.
88. Inflatable baby Trump
First off, I should say I hate the inflatable baby Trump. It's not clever, but perhaps that's why it persists. It flew over London during Trump's 2018 visit there and has been flown at protests across the U.S. Most recently, there was one was flown — and slashed — outside the Alabama-LSU game President Trump attended earlier this month. Bright orange with a diaper and smartphone, it's become an enduring symbol of resistance.
89. "Sanctions Are Coming"
Credit: Oliver Contreras/SIPA USA via AP Images
After virality entered the lexicon, marketing agencies attempted to engineer their own hits, but one does not simply come up with the next big internet meme. A good internet meme takes off because it's funny or relatable. It doesn't need to be shouted or explained. Forcing a meme looks desperate. It's all I could think when President Trump invited the press into a cabinet meeting on January 2 with a movie-style poster on the table in front of him. The poster showed Trump looking like a boss and said "Sanctions are Coming," a reference to an old "Game of Thrones" meme. Neither he nor anyone in his cabinet said anything about it, it just sat there. Trump is a fan of the "X is coming" meme format, having shared variations of it on multiple occasions relating to both sanctions and the border wall. Trump's "Sanctions are Coming" moment was deeply weird, and the opposite of his predecessor's healthcare enrollment video a month earlier. There was nothing subtle about it, just a president with a stale meme printed out in front of him, baiting the media to say something about it. You can't force a meme.
90. The border wall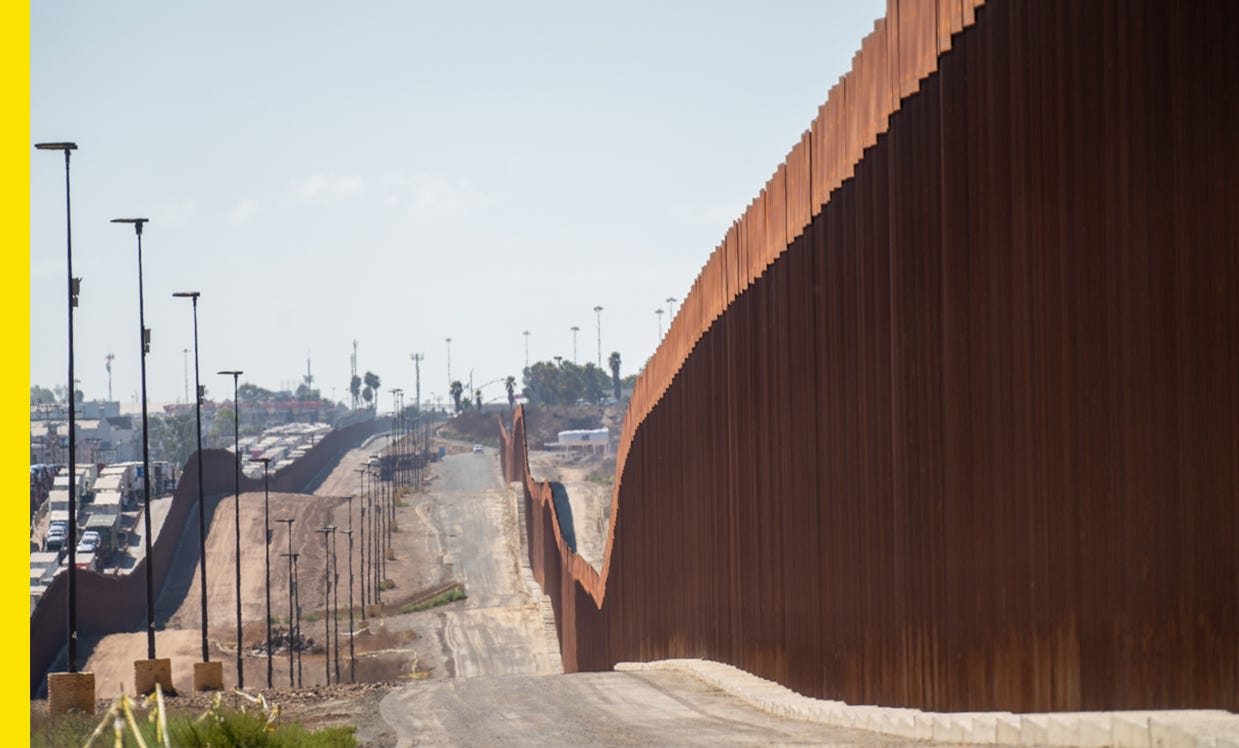 President Trump has shown a keen interest in the aesthetics of his promised border wall. "He thinks it's ugly," an anonymous administration official told the Washington Post. Trump has long since dropped the idea for a concrete wall and is now OK with a slatted fence, but he said he'd like it painted black with spikes at the top to look intimidating. That doesn't come cheap. The cost of painting the barrier is estimated between $70 million to $133 million for every 175 miles, and despite his campaign promise, Mexico isn't paying for it. As of August, about 60 miles of fencing has been replaced, but no new wall has been built since Trump took office. He set a goal to build hundreds of miles by Election Day 2020, but to do so will require seizing private property.
91. Clapping Pelosi
Nancy Pelosi faced rumblings of resistance from House Democrats before she began her most recent run as House Speaker, but since recapturing the gavel, she's won over Democrats by standing up to Trump. All her biggest memes — from the burnt orange coat to her finger pointing during a White House meeting over Syria — pit Pelosi against the president, but her State of the Union clap was the crowning meme moment. SOTUs under divided government always make for great split screen television, and after Trump delivered a line about rejecting "the politics of revenge, resistance, and retribution" in favor of "cooperation, compromise, and the common good," Pelosi stood and clapped directly at Trump. It was sarcastic and condescending, like a mother commending her child for doing the bare minimum. As Pelosi's daughter Christine tweeted, "that clap took me back to the teen years. She knows. And she knows that you know. And frankly she's disappointed that you thought this would work. But here's a clap."
92. Jennifer Rubell's "Ivanka Vacuuming"
Credit: Hunter Schwarz
"Ivanka Vacuuming" was an interactive exhibit exploring gender, politics, power and Ivanka Trump by performance artist Jennifer Rubell. For 17 days in February, viewers could throw bread crumbs onto a pink carpet in downtown Washington that was vacuumed by a model wearing a pink Ivanka Trump brand dress. Trump responded to the piece herself. "Women can choose to knock each other down or build each other up," she tweeted. "I choose the latter." But it wasn't about knocking her down. The model wore the same dress Trump wore to the G20, which Rubell explained at a Q&A was to show her using feminine clichés "in the service of power," and the bread crumbs were meant to inspire viewers to consider their complicity in Trump's roleplaying.
93. The redacted Mueller Report
With random words and lines blocked out, there's an unintentionally artistic component to redacted government documents. About 10 percent of Robert Mueller's 448-page report was redacted, including some entire pages. The report was a document detailing Russian interference in the 2016 campaign, but it was also an abstract found object art piece. Erasure is an artform that uses redaction to give pre-existing text new meaning but in the Mueller Report, redactions just left us with more questions. Mueller's investigation charged 35 people, including Trump associates Michael Flynn, George Papadopoulos, Rick Gates, Paul Manafort, Michael Cohen, and Roger Stone.
94. Yarek Waszul's "War of Umbrage" illustration
Toronto-based artist Yarek Waszul originally created an image of red and blue states battling it out for a 2013 New York Times review of the book "Double Down," about the 2012 election. In March, a repurposed meme using the image was posted on Rep. Steve King's (R-Iowa) Facebook page with the text "Folks keep talking about another civil war. One side has about 8 trillion bullets, while the other side doesn't know which bathroom to use." Ironically, King's home state was on the blue side (Obama won Iowa in 2012), and King claimed he didn't post the meme himself and doesn't manage his page. Waszul came out against his work being used in such a way "This meme is counter to the original spirit of my picture, which was to depict and caution against hostility and vitriol of divisive political discourse," he told the Washington Post.
95. Tubman $20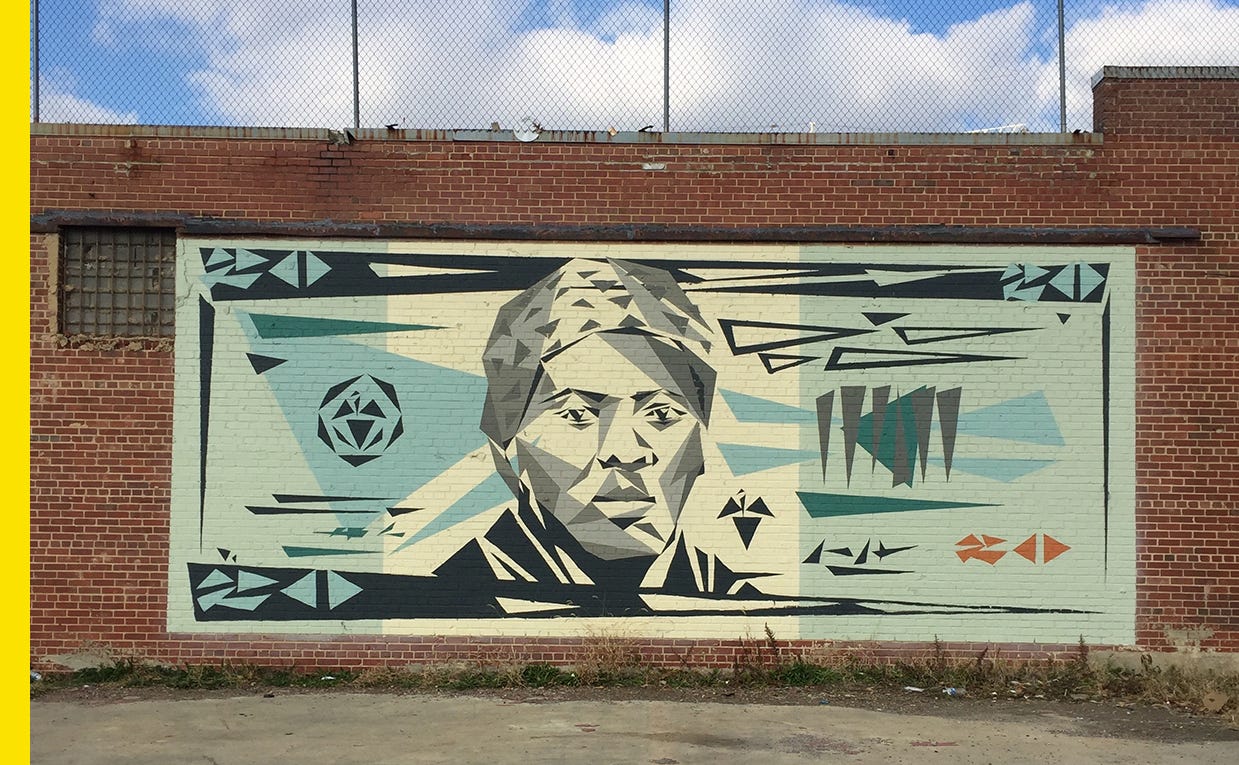 Credit: Hunter Schwarz
When Treasury Secretary Mnuchin announced the planned $20 bills depicting abolitionist Harriet Tubman would be delayed for at least six years, there was an uproar. Blocking what would be the first U.S. paper currency ever to depict a black American in favor of keeping the president who signed the Indian Removal Act was seen by some as racist, and Speaker Pelosi called it an "insult." In actuality, a report released during the Obama administration found the Tubman $20 wasn't expected until 2030. The 2020 release was part of a sped-up timeline in anticipation of next year's 100th anniversary of women's suffrage, but the Bureau of Engraving and Printing director found such quick turnaround wasn't feasible. To be fair, Trump was never keen on taking off Andrew Jackson. He criticized the change before taking office and called it "pure political correctness." The Tubman $20 bill isn't expected to actually be in circulation until 2028, meaning her likeness could end up on a list of the most important visual rhetoric of the '20s too.
96. Apollo 50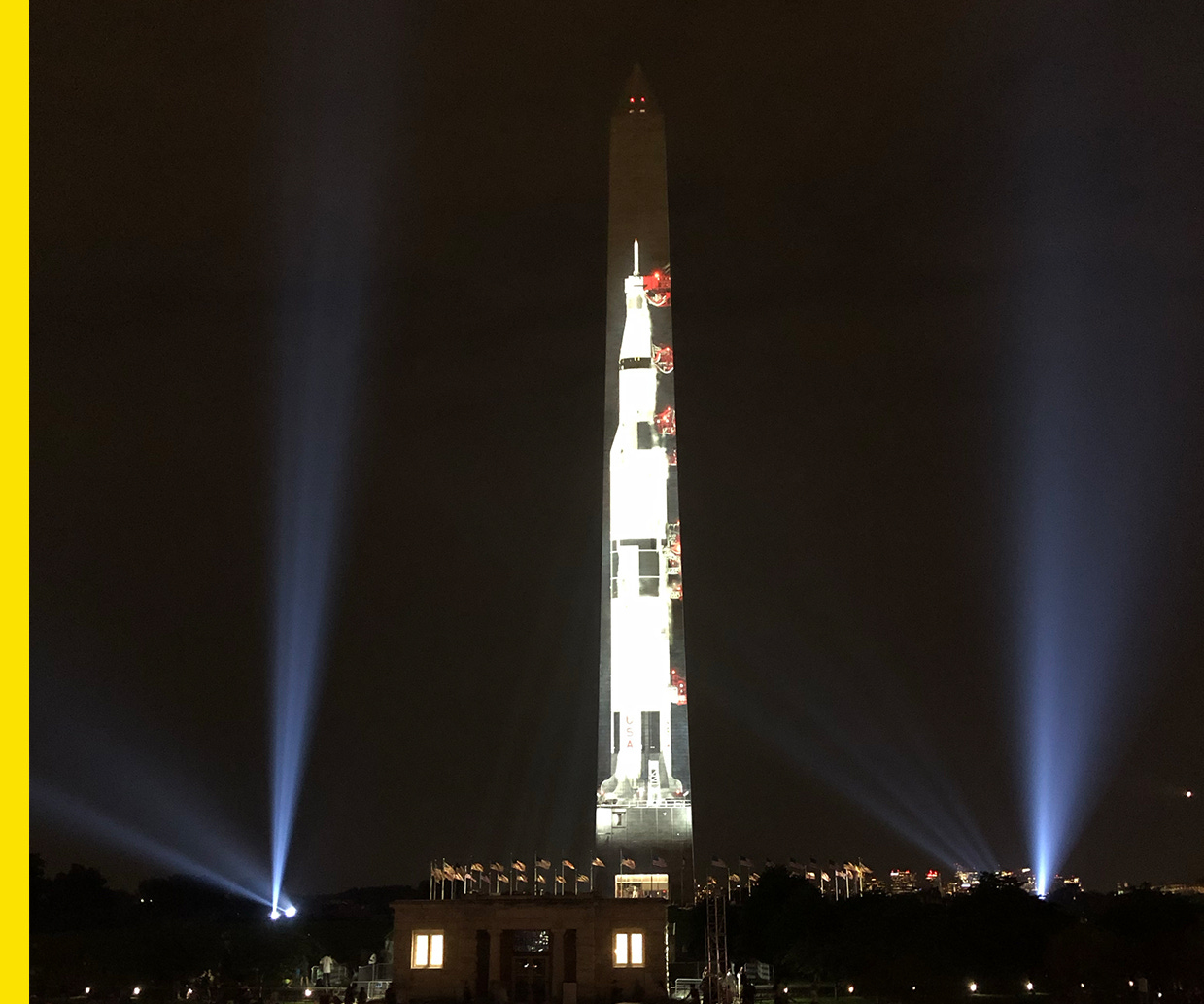 Credit: Hunter Schwarz
To mark the 50th anniversary of the Apollo 11 moon landing, the Smithsonian put on a public art exhibition unlike any I've seen. Apollo 50 was a 363-foot-tall Saturn V rocket projected onto the east facade of the Washington Monument created by the British production company that did the London 2012 opening ceremony. There's something that feels so ancient about gathering around an obelisk with hundreds of others to celebrate your shared national achievements, and yet something so futuristic about modern projections of space travel.
97. Charles Leazott's parody presidential seal
Credit: Alex Brandon/AP Photo
President Trump took the stage at an event in Washington in July with a parody presidential seal behind him. The altered seal showed a two-headed eagle — a reference to the two-headed eagle on Russia's coat of arms — with money in one talon instead of olive branches and golf clubs in the other instead of arrows (despite vowing not to golf as president, Trump has spent more than 200 days at one of his golf properties since taking office). Turning Point USA, which put on the event, called it an "A/V mistake" but let the person responsible for the alleged mix-up go. The seal's creator, though, graphic designer and former Republican Charles Leazott, didn't buy the explanation. "You have to look for this," he told the Washington Post. "There's no way this was an accident is all I'm saying." The changes are so subtle that you might miss them on first glance, though. In October, the official @TeamTrump account tweeted a news article that used the above photo as its cover image. The tweet has since been deleted.
98. Trump's Sharpie-altered hurricane map
Credit: Evan Vucci/AP Photo
Donald Trump loves a Sharpie. For years he used them to write notes on news articles and magazine covers he'd send back to writers and he signs his jagged, unmistakable signature in thick marker. We sometimes catch a glimpse of his notes written in Sharpie ("I want nothing I want nothing I want no quid pro quo"). But when Trump showed a map of Hurricane Dorian's path in the Oval Office with black marker crudely adding Alabama to the trajectory — an attempt to prove his tweet falsely claiming the state would "most likely be hit" — the Sharpie became an easy way critics could mock his misstatements. Twitter users drew cartoonishly large hands on Trump or added airplanes to Revolutionary War paintings, poking fun at his July 4th comments about the army taking airports. The Trump campaign responded to "Sharpiegate" by … selling $15 packs of markers.
99. The peach emoji
Credit: Hunter Schwarz
Typically reserved for innuendos 🍆 or leg day 🏋️‍♂️, the 🍑 has become emoji shorthand for President Trump's impeachment. People were so 😩 for IM-🍑-MENT that Twitter usage nearly doubled 📈 after Speaker Pelosi announced the inquiry, as Yello first reported.
100. Democrats' 2020 design
Credit: Blake Pack
The brand identities of the Democratic class of 2020 are a rainbow of color and a range of typefaces and styles. Depending on the eventual nominee and whether she or he wins next year could determine the look of politics in the '20s, since campaign design trends are influenced by the winners. From Biden's evolved Obama look and Warren's liberty green to Buttigieg's strong midwestern Americana, each identity represents a possible future path for the Democratic Party.
101. Trump rallies
Credit: Andrew Harnik/AP Photo
President Trump never stopped holding rallies after the 2016 election. No matter where they're held, they usually have a similar look: stars-and-stripes bunting, big ole American flags, and a "Keep America Great" sign over the entrance Trump walks through on his way to the stage. "Is there any place you would rather be than at a Trump rally?" Trump asks. His rallies drive local news coverage and allow the campaign to collect data on supporters. They're a centerpiece of his reelection strategy.
Top banner image by Lidia Tomashevskaya.