Is this logo a monstrosity or nah?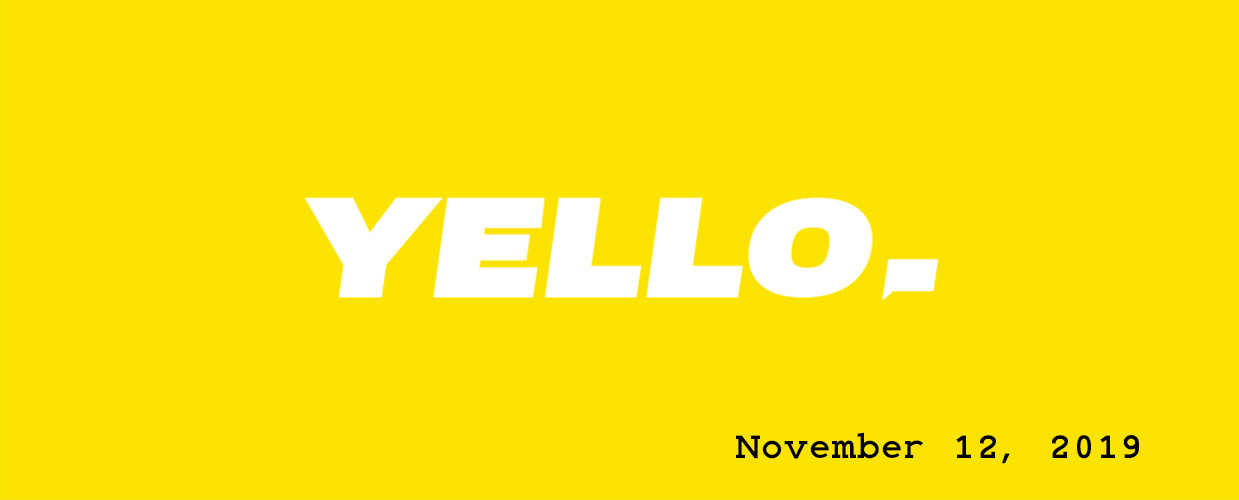 Former New York City Mayor Michael Bloomberg is making moves to run for president, including filing paperwork Tuesday morning to be a candidate in Arkansas' Democratic primary. We don't have an official campaign site with a logo yet, but one logo that's made the rounds has been panned and compared to the monster cthulhu. Is it a monstrosity or nah? In this week's issue we'll look at that and other logos, hear what a former Clinton designer has to say about 2020 political design, and see how the U.S. embassy in Berlin marked a major anniversary.

Yours,
---
The U.S. Embassy in Berlin got a Reagan statue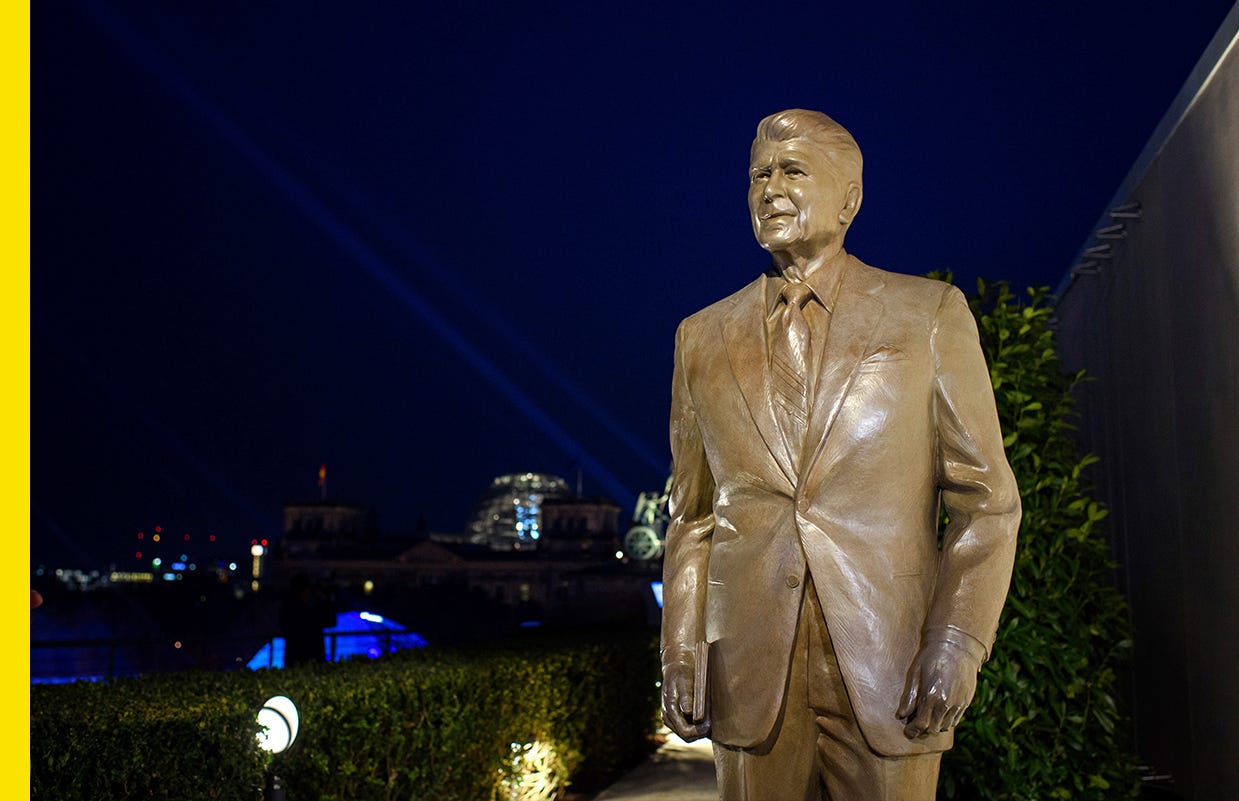 Credit: Gregor Fischer/AP Photo
Saturday was the 30th anniversary of the fall of the Berlin Wall, and the U.S. Embassy in Berlin unveiled a statue of Ronald Reagan. The statue was made by sculptor Chas Fagan, who also made the statue of Reagan at DCA and the statues of the former Presidents Bush at the George W. Bush Presidential Library that Bill Clinton once famously posed with. Fagan included an original piece of the Berlin Wall in the statue as part of the notes Reagan is holding.
San Francisco's getting a Greta Thunberg mural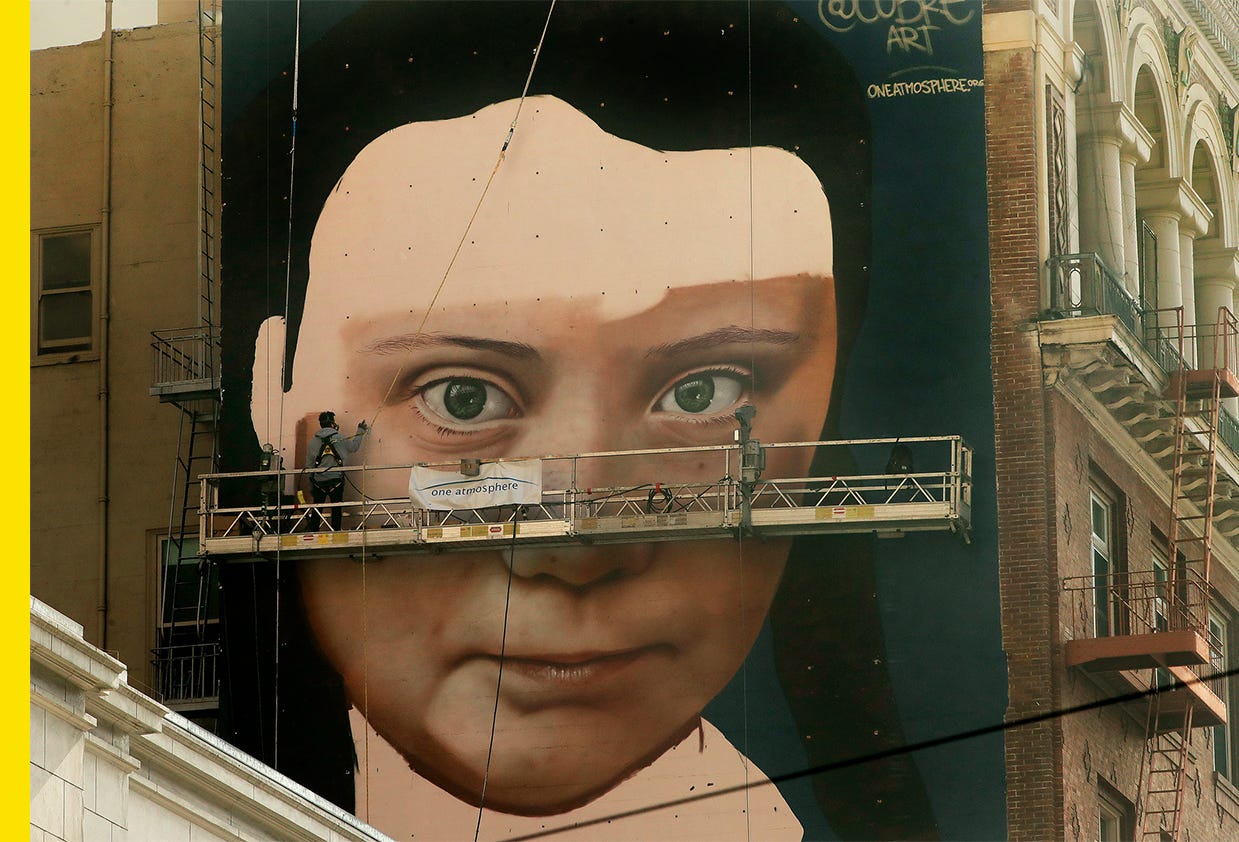 Credit: Ben Margot/AP Photo
The mural is by Argentinian street artist Cobre and located on Mason St. near Union Square. It's being done for the environmental nonprofit One Atmosphere, and the spray paint cans used to paint it will be made into a sculpture afterwords. Cobre told the San Francisco Chronicle, "I hope with this mural people will realize we have to take care of the world." The artist has also painted a now-demolished mural of Robin Williams on Market St., and a mural of Princess Leia in Modesto, Calif.
When We All Vote puts out star-studded "Voting Squad" poster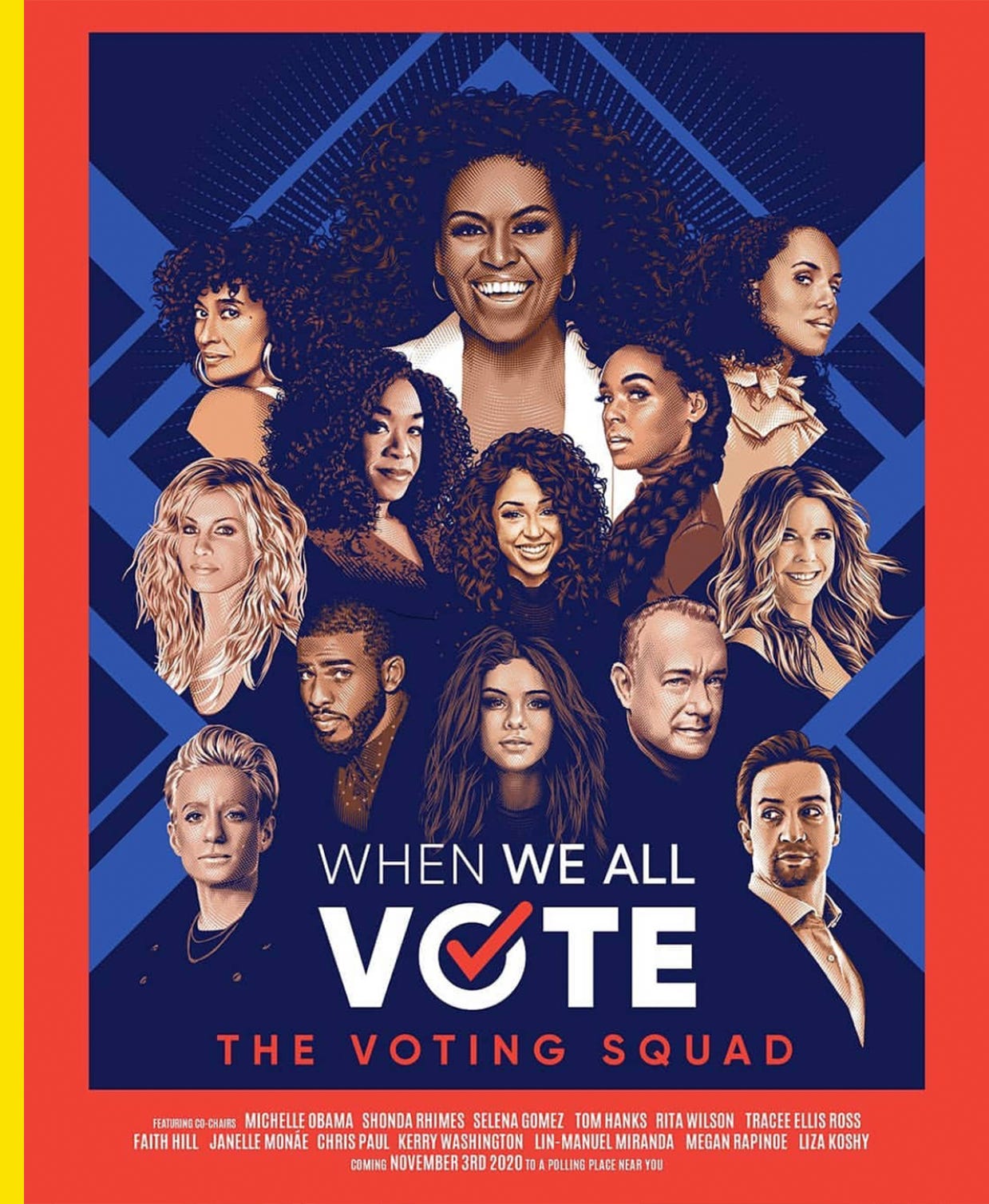 The nonprofit voter turnout group When We All Vote put out a poster last week for their 2020 co-chairs, including former first lady Michelle Obama, Janelle Monáe, Faith Hill, Chris Paul, Selena Gomez, Tom Hanks, Megan Rapinoe, and Lin-Manuel Miranda. The poster is by artist Tracie Ching, who you may remember did a campaign poster for Sen. Kamala Harris (D-Calif.) earlier this year.
Notes on campaign design
Here's a round-up of a few stories on campaign design from the past week: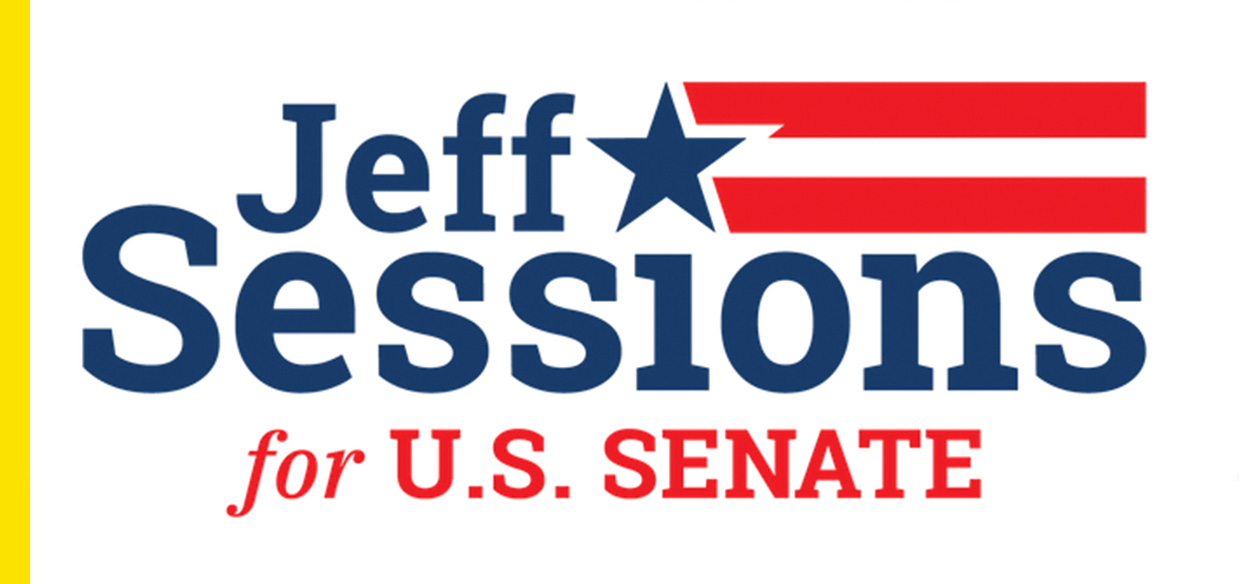 Former Attorney General Jeff Sessions announced he's running for his old job in Alabama. His Senate campaign logo uses the typeface Roboto Slab, which is available as a free Google font and made by interface designer Christian Robertson.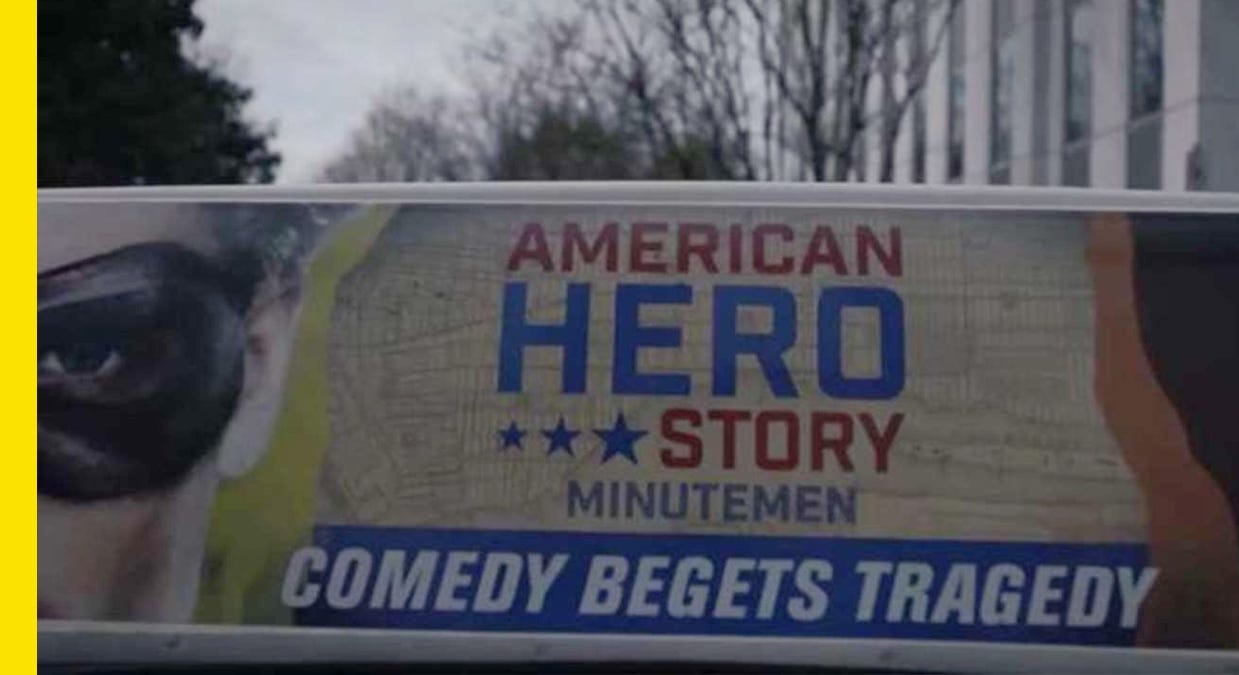 For those of you watching HBO's "Watchmen," its "American Hero Story" show about throwback superheroes uses the typeface Industry for its logo. It's the same typeface used by South Bend, Ind. Mayor Pete Buttigieg's campaign, which I think says a lot about what this font can communicate.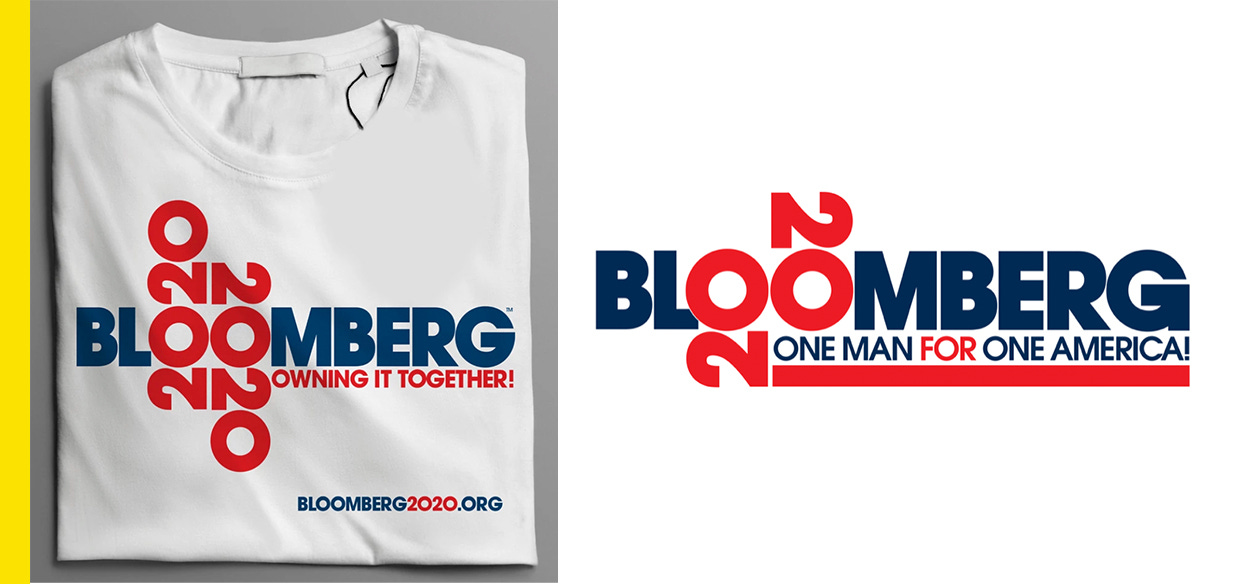 Here's the much maligned Bloomberg logo. First off, I'm not sure the original logo (above left) is going to be Bloomberg's official logo. It appears on a site "paid for by supporters of Mike Bloomberg" and we don't yet have a formal campaign site for Bloomberg (I'm also going to assume someone worth $52.2 billion can afford better design for that?). The use of two 2020s is truly baffling but I like the typeface, ITC Avant Garde Gothic, made by type designers Herb Lubalin and Tom Carnase.
Whoever runs the bloomberg2020 dot org site that is promoting this logo and selling tees that feature it seems to have heard the internet's feedback and posted up a different version (above right). It has just one 2020, a different "G," and different tagline.
Hillary's design director talks 2020 trends, 2016 lessons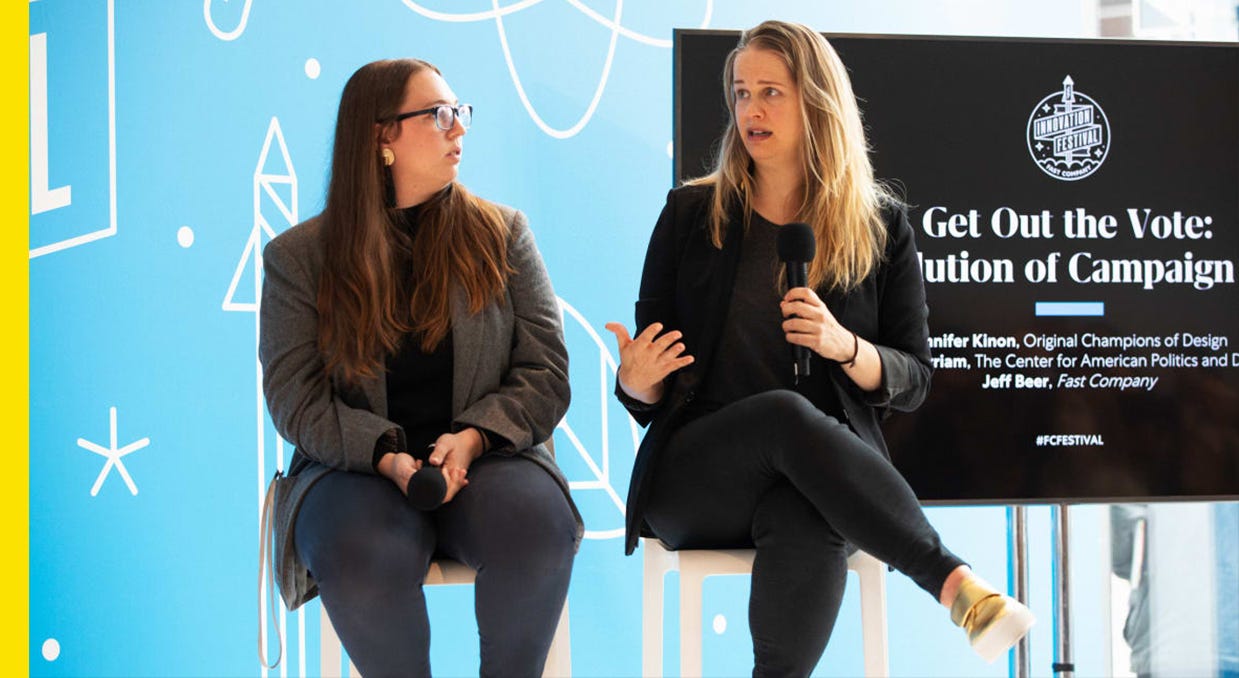 Former Hillary for America design director Jennifer Kinon, left, with Center for American Politics and Design co-founder Susan Merriam. Credit: Maja Saphir for Fast Company
Former Hillary for America design director Jennifer Kinon said she's noticed 2020 presidential candidates are seeking to differentiate themselves "rather than pile on and use Gotham," while speaking at the Fast Company Innovation Festival last week. She singled out the Buttigieg campaign in particular for having an identity system that communicates American pastimes and the Midwest.
Kinon also dismissed the Trump campaign's relative lack of design in 2016 as an anomaly. She said the lesson of the last campaign isn't that under-design or poor design is authentic while a sleek, corporate brand like the Clinton identity is not. Rather, design should "get those little bits of personality" of a candidate to create an authentic brand.
"We're not artists," Kinon said. "We're communicators. The more people I can get information to, the better."
How Stephen Miller reacted to the removal of Confederate merchandise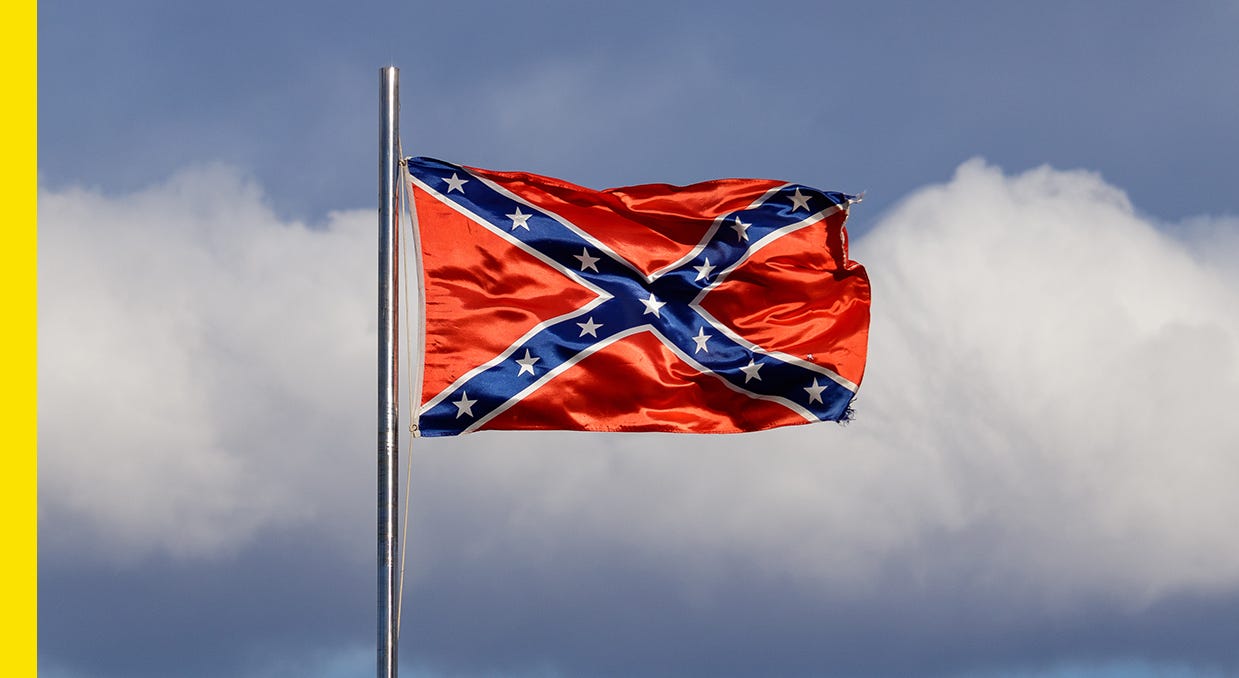 The 2015 church shooting in Charleston, S.C., by a white supremacist inspired a national reckoning over Confederate symbols, and retailers including Amazon soon stopped selling Confederate merchandise. Leaked emails between Trump adviser Stephen Miller before he joined the administration (at the time he was an aide to Sessions, who was then a U.S. Senator from Alabama) and Breitbart editor Katie McHugh show how he suggested she write about Amazon selling communist merchandise as a response to the news cycle.
It was just one thread in more than 900 emails reviewed by the Southern Poverty Law Center's Hatewatch that were leaked by McHugh herself. McHugh was fired from Breitbart in 2017 over anti-Muslim tweets and has since renounced the far right. In the emails Miller focused on race and immigration, including a recommendation that Breitbart write about white nationalist literature, as well as sharing links to white nationalist and conspiracy sites. The White House did not respond to a request for comment from the SPLC. You can read more from Miller's emails here.
Kim's open to talking with Trump on issues outside criminal justice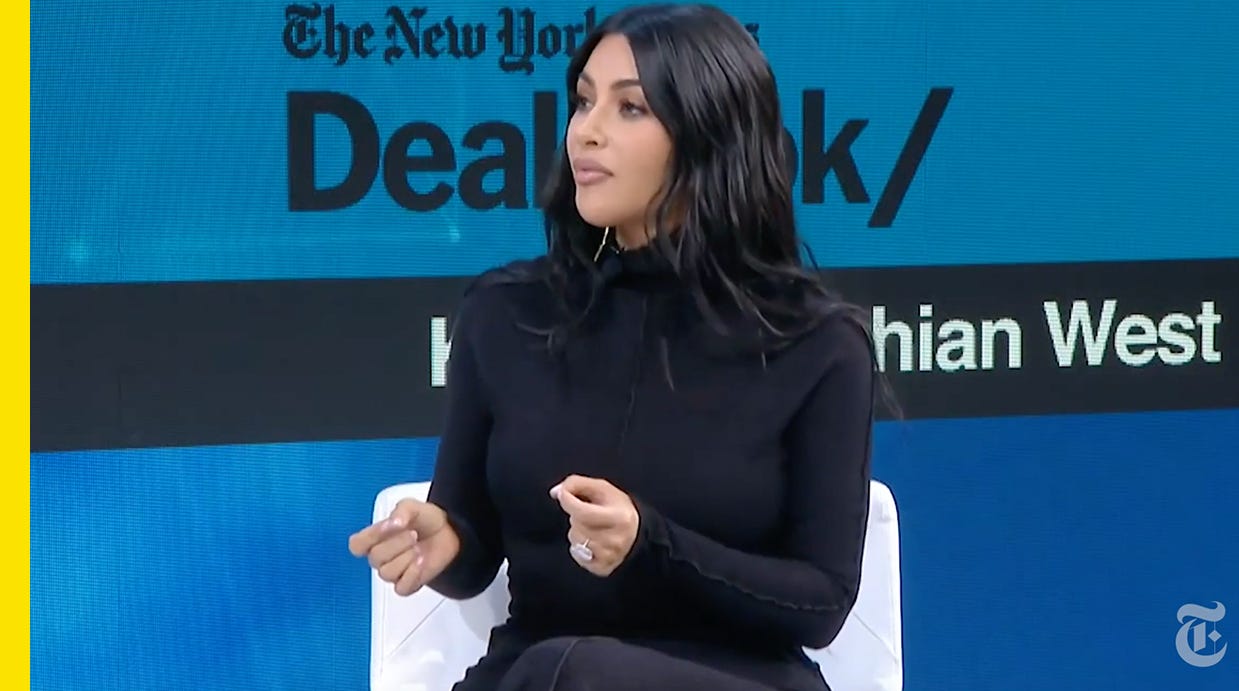 Speaking at the New York Times DealBook conference last Wednesday, Kim Kardashian West said she's open to discussing issues outside of criminal justice reform with Trump, but plans to stay focused on that for now.
"I focus on prison reform and the President has done amazing things in prison reform," she said. "I will also speak up when I feel like something is not how I feel like the world should be and that could be immigration or other things. I'm very focused, there's a lot that we have to get done in prison reform and I believe I will be more beneficial if I just focus on that at the moment."
KKW said she hopes to one day start a law firm that hires the previously incarcerated "because they know the law better than most lawyers." She also said that she's willing to post up off-brand sponsorships on social media for the cause.
"If I have a paid post that comes in and I think, 'O.K., well this can fund x amount of people that are behind bars, that can help free them with simple legal fees that they just can't afford, then that would be worth it to me, even if the post might be a little bit off-brand for me,'" she said.
Then on Friday, husband Kanye was at the Fast Company Innovation Festival where he said he's moving production of his Yeezy line to North and South America over the next two years, could change his name to "Christian Genius Billionaire," and will run for president in 2024. When the audience laughed, he said, "What y'all laughing at? We would create so many jobs! I'm not going to run, I'm going to walk. When you see headlines saying Kanye's crazy — one in three African Americans are in jail and all the celebrities are in jail also because they can't say nothing, they got no opinion, they're so scared!"
---
If you enjoyed this issue, level-up with a Yello membership.
You'll support independent journalism and get access to exclusive members-only stories, like: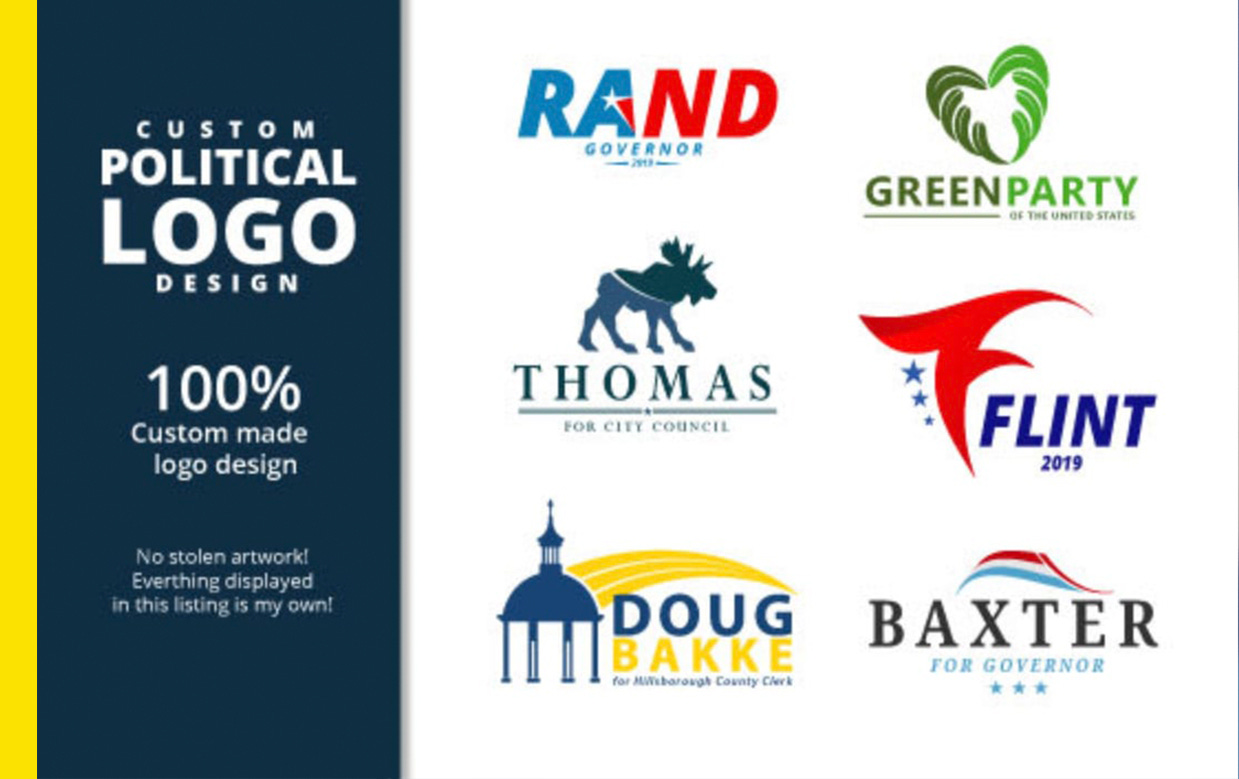 Nearly $10 billion is estimated to be spent next year on political ads for presidential and congressional races, according to projections from media investment company GroupM. Campaigns for state legislators, mayors, and town council members, however, don't have access to the same level of cash and resources. 
Down-ballot races can be cash-strapped, but a new initiative hopes to use freelancers to offer campaigns everything from ads to a logo.